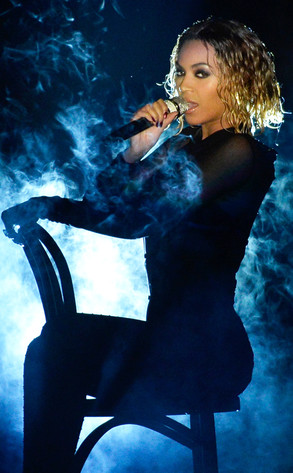 Kevork Djansezian/Getty Images
You can't deny it—Beyoncé looks amazing these days!
The superstar showed off her incredibly svelte figure Sunday night at the Grammys during her sexy performance of "Drunk in Love" in a revealing black leotard that flaunted her all of her curves.
The stunning results can be partly attributed to the 22-day vegan challenge that she undertook back in December for hubby Jay-Z's birthday. The singer completely cut out gluten, dairy and soy and maintained a plant-based diet for three weeks.
She recently posted a pic on Wednesday, Jan. 29, of a vegan protein bar with banana slices on her Instagram account with the caption, "#22daysvegan." So, it appears that she's ready for round two!
And, who can blame her with a body like that?
The first time around, Queen Bey enjoyed meals of vegan mac 'n' cheese, portobello mushrooms, nachos and salad. She also indulged in sweet treats like vegan cupcakes and cookies.