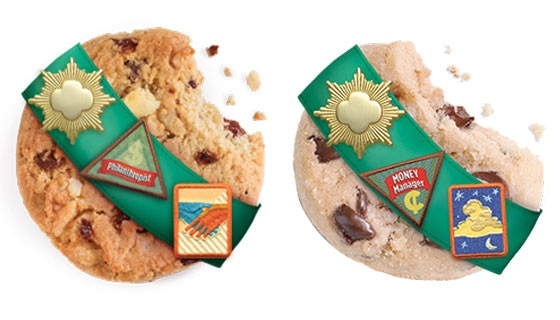 http://www.girlscouts.org
It's here. It's finally here. We've been waiting so long for this moment. The joy we feel in our hearts and the anticipation boiling inside us is on par with how couples must feel when they are about to be parents for the first time. How else would you describe this unbridled happiness? Girl Scout cookie season is here!
It's right on time, because we just lost the holiday weight and we're looking to pack on those five (maybe ten) pounds again. And there is no better way to add some weight than with the likes of Thin Mints and Samoas. But because there will surely be arguments over which flavor is truly the best and which ones might as well not exist, we present our definitive ranking of every Girl Scout cookie flavor. These are non-negotiable facts:
12. Cranberry Citrus Crisps: If we wanted fruit in our cookies we would eat a Fig Newton! Or fruit! Get this out of here.
11. Thank You Berry Munch: These cookies also have fruit in them, but its saving grace is the white-fudge chips. As long as the fruit is smothered in chocolate, we'll be OK.
10. Lemonades: There's that fruit again! But it has icing so we'll let this one slide.
9. Savannah Smiles: More lemon! But this one has powdered sugar dusted on it, so we can still get a sugar high while pretending to ignore the fact we are basically eating a healthy snack. Also, does anyone else remember the 1982 classic film called Savannah Smiles? It's about a little rich girl who runs away from her parents and accidentaly ends up with a pair of escaped convicts. No? Peter Graves is in it! Sure, it sounds questionable as a children's comedy, but it's actually quite sweet. Watch the trailer. And that's the end of this tangent.
8. Chocolate Chip Shortbread: The reason the Thanks-A-Lot ranks higher than this one even though they are generally the same cookie is because Thanks-A-Lot has a layer of fudge on the bottom, which means you always get chocolate in your bite. This one has chocolate chips sprinkled throughout, which means there is a possibility you might have a bit of the cookie without chocolate in it. Which is just...awful.
7. Thanks-A-Lot: It's just like the classic shortbread cookie we love so much, but it has a layer of fudge on the bottom! This one gets points taken away because they messed with a classic, but at least they messed with it by slapping fudge on it and not by, heaven forbid, putting cranberries in it. 
6. Do-si-dos: It's not as good as the Tagalongs due to the lack of chocolate, but we're not mad at a peanut butter sandwich cookie. How can you be?
5. Dulce de Leche: The official description of this cookie says it's "packed not only with milk caramel chips, but also with learning." We assume by "learning," they mean "learning to shove more than four into our mouth." You have to tilt them sideways before inserting them into your face hole.
4. Trefoils: No, it's not the most exciting cookie (or even the tastiest). But it's a classic. And we enjoy the way it melts in our mouths, leaving a sugary aftertaste that will last us until the next cookie we eat five seconds later.
3. Tagalongs: It's trying to be like a Reese's Peanut Butter Cups with the chocolate and peanut butter combo, but it falls short. That being said, falling short of Reese's is nothing to be ashamed of, because you are still combining peanut butter and chocolate, thus ensuring deliciousness. 
2. Samoas: Not only are these damn tasty, but the hole in the middle of the cookie allows you to put it on finger as you nibble. This cookie follows the Bugles rule: Food taste better if you can somehow fit it on your fingers. True, it technically has fruit in it (coconut), but it has carmel and chocolate on it, too. So, you don't really notice the coconut except for the sweetness it brings. Sugar on sugar on sugar, y'all.
1. Thin Mints: These are the best Girl Scout cookies and your ARGUMENT IS INVALID.