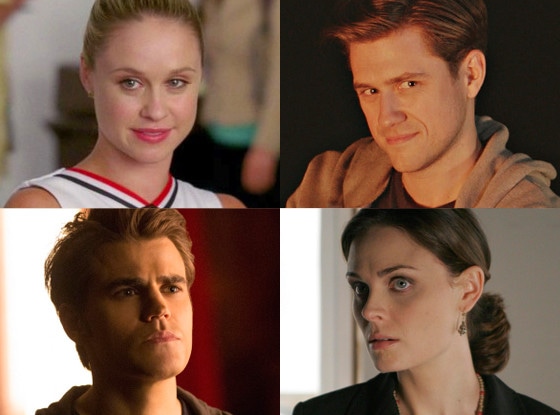 Fox; USA, CW
When the weather outside is frightful, the spoilers inside are extra delightful.
We've got the latest scoop on Bones, some fresh intel on the new faces on USA's Graceland and a delectable Vampire Diaries treat to warm you up. Plus, a new scrappy badass is coming to Grimm, The Flash cast is starting to take shape and more.
Grab a blanket and warm yourself by the spoiler fire with us. Don't worry, we've saved you the best seat in the house.
Gisele: Scandal me, please!
Are Fitz and Olivia taking another trip to Vermont?! Just us or does the counter in this photo, posted by co-EP Tom Verica, look awfully familiar?
Allison: Dying for any Glee info!
Before we leave McKinley High behind for good (feel free to celebrate or sob), we'll be meeting a new cutie who just so happens to be a Christ Crusader. (Hmm…anyone else thinking new love interest for a certain Cheerio?) Expect to meet the new C.C. in the second part of the milestone 100th episode.
Clara: I'm so excited Bones is going back for a 10th season, but that excitement doesn't mean I don't want to know what's coming up this year!
Get ready to celebrate Christine Booth's third birthday! In "The Carrot in the Kudzu," look for the toddler daughter of Brennan and Booth to have a third birthday celebration and try to get her parents in on a game of tag. Oh, tag. How simple and fun you are.
Pam: Please, please, please give me something Graceland-related. I am going through withdrawals, hard-core.
Ask and ye shall receive. Look for some new recurring faces in season two, including a new roommate, a high-spirited federal agent who moved into Mike's room. The other? Vera Walker, the FBI's Assistant Deputy Director, Mike's superior who is tasked to rein the agent in. The two might be more than colleagues, if you catch our drift. Wink wink, nudge nudge.
Frankie: Any scoop on who the new big bad is on The Vampire Diaries?!
Someone we'll be meeting pretty soon who has big plans for Stefan and Elena. "We've been doing a nice slow, slow, slow burn of this Traveler storyline…what we will come to understand what exactly it is these people want, what it has to do with this alleged doppelgänger prophecy and what they need from our doppelgängers," Julie Plec previews. "At the end of that, there will be a face to that group that we will meet later in the season who we haven't cast yet."
Dave: I'd howl with joy if you had any Grimm scoop.
Get ready to meet Teresa "Trubel" Rubel. The savvy—and scrappy—new character is a fighter who is very capable of holding her own. She's remarkably strong and trouble seems to follow her everywhere. The character is recurring now, but could become a series regular.
Mary Beth: I'm really loving The Crazy Ones! What's coming up at my favorite ad agency?
Prepare to meet Gordon's (guest star Brad Garrett) life partner of over 20 years on the CBS sitcom later this season. Timothy, a former competitive diver, is good-looking and still super fit, but it seems like there may be trouble in paradise.
Kevin: My favorite superhero is getting a TV show! What's the latest on The CW's Flash TV series?
The Scarlet Speedster won't be without his love, Iris. The show is still currently looking for an actress to take on the role. The character, who eventually becomes Mrs. Allen in the comics, is a grad student studying psychology in the new pilot. She's described as Barry's best friend who is blissfully unaware of his true feelings for her. And the rumors are true, Cisco Ramon, also known as Vibe in the DC Universe, will be part of the show.
GOT TV QUESTIONS? Tweet them to @kristindsantos with hashtag #spoilerchat!
SPOILER CHAT comes out every Monday, Wednesday and Friday at 9 a.m. ET/6 a.m. PT. Bookmark the link!