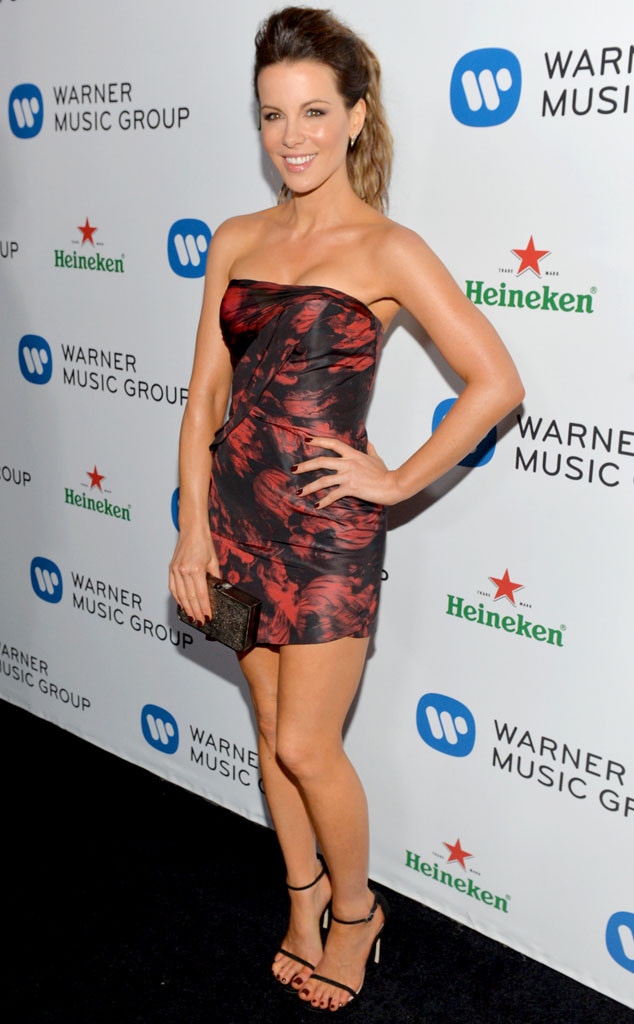 Warner Music Group Grammy Party hosted by Heineken
When we spotted Kate Beckinsale working the room at the Warner Music Group Grammys Party over the weekend in a form-fitting strapless mini dress by Rubin Singer, we had to do a double take.
We always knew the brunette beauty had a killer body, but in this tiny little cocktail dress, it was more evident than ever.
Inspired to tone up ourselves, we asked her yoga instructor, Mandy Ingber, for the full scoop on exactly how Beckinsale breaks a sweat.
Turns out, the star is very dedicated to daily yoga sessions with Ingber and sees her at least six times a week. "She has great genetics and a great attitude and is very in touch with her body," the fitness expert told us. 
Terma/SL/FAMEFLYNET PICTURES
"I started training with Kate four years ago, and now it's the only exercise she likes other than hiking."
Ingber also tells us that when it comes to the hatha vinyasa flow yoga practice, Kate is a natural. "She has beautiful legs and long lean muscles. She's not bulky at all, and we activate a lot of muscles all at the same time."
As for some of her best poses, Ingber proudly says that Kate can do an impressive dancer's pose, among others.
"Kate is also great at warrior three pose, which tones the glutes, inner thighs and calves, as well as chair pose and half moon pose. These are all balancing exercises that use a lot of muscles and we'll add in hybrid moves like squats and holds to exhaust the muscles for extra benefit."
Nice work!
Ingber also tells us that she knows the star also follows a very clean diet to maintain her enviable figure that's high on protein. "She doesn't eat any sugar whatsoever. Basically a lot of chicken and salads. She's very disciplined!"
On that note, Ingber couldn't sing enough praises of Beckinsale's endless abilities.
"She's one of the strongest people I've ever worked with! She can do anything."
We're officially impressed.