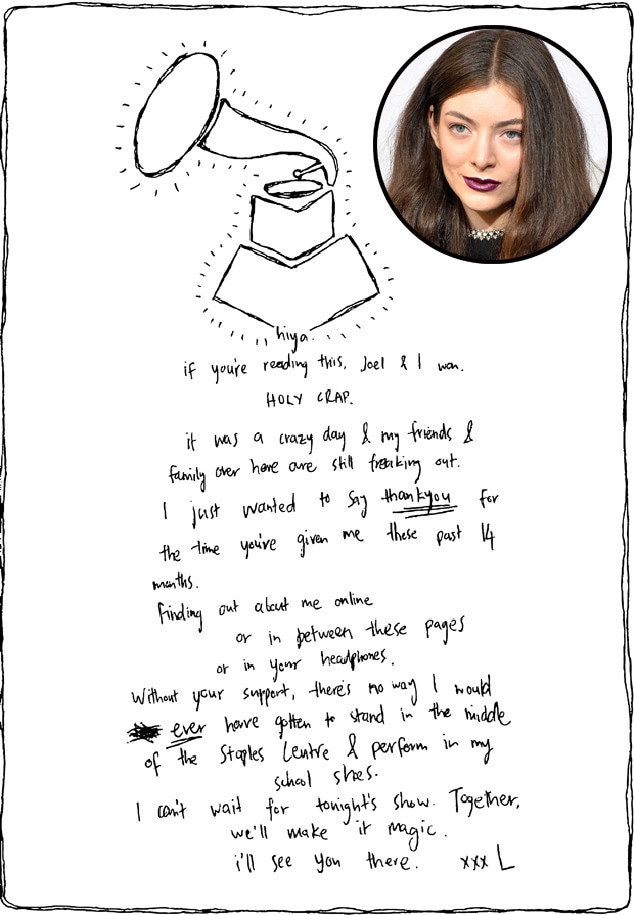 nzherald.co.nz; Frazer Harrison/Getty Images
Lorde isn't just a two-time Grammy winner—she's a girl with the manners and class to send a handwritten thank-you note!
The 17-year-old "Royals" singer has far too many fans to send every single one something in the mail thanking them for their support, so she did the next best thing: Took out a full page ad in the New Zealand Herald expressing her love for her home country!
The black-and-white ad was published in the paper's Wednesday, Jan. 29, edition—three days after Lorde's "Royals" won Grammy Awards for Song of the Year and Best Solo Pop Performance. "Hiya, if you're reading this, Joel [Little, who co-wrote Lorde's Pure Heroine album] & I won," she wrote, adding endearingly, "HOLY CRAP."
"It was a crazy day & my friends & family over here are still freaking out," she continued. "I just wanted to say thank you for the time you've given me these past 14 months..Without your support, there's no way I would ever have gotten to stand in the middle of the Staples Centre & perform in my school shoes."
The ad, published ahead of Lorde's Wednesday-night performance at Silo Park in Auckland, promised her fellow New Zealanders the show would be "magic."
She tweeted after the show, gushing to fans, "you made my day brilliant. so glad we could make this happen."