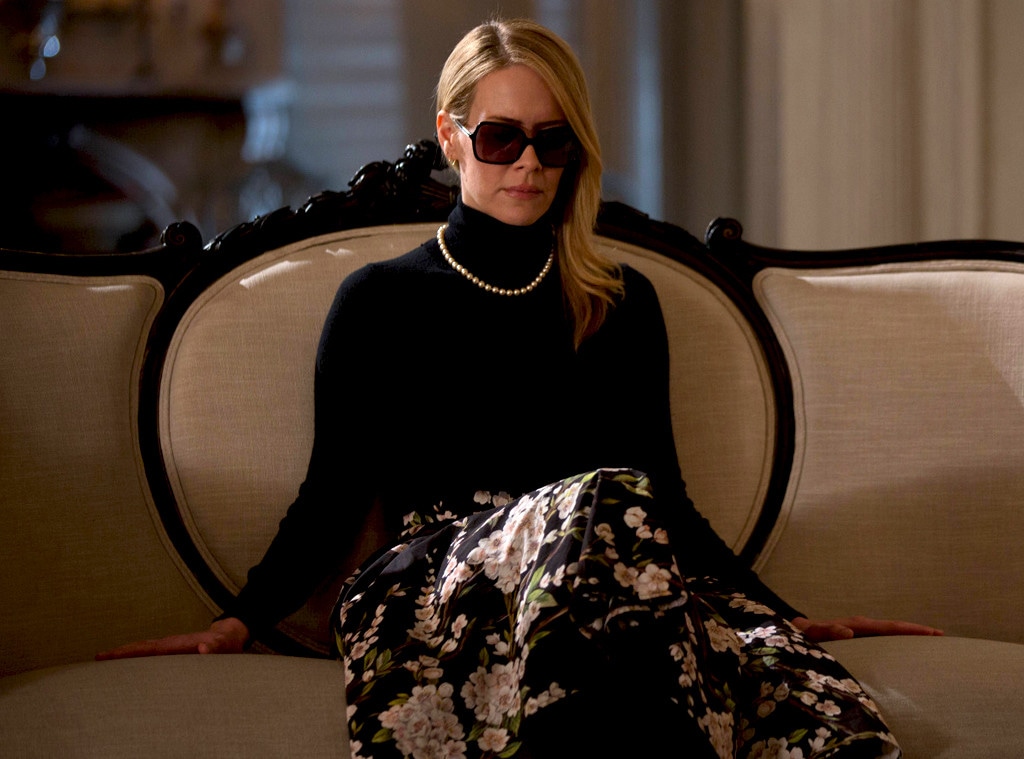 Michele K. Short/FX
A new Supreme rose to power, and three witches fell during the American Horror Story: Coven finale. Grab your shawl and start twirling with us. Warning, major spoilers ahead.
In "The Seven Wonders," which kicked off with a glorious cold open featuring Stevie Nicks walking around Miss Robichaux's Academy singing her song "Seven Wonders" while Misty (Lily Rabe), Zoe (Taissa Farmiga), Madison (Emma Roberts) and Queenie (Gabourey Sidibe) prepared for the Supreme test, saw the death of three series regulars and major changes for the coven.
Myrtle Snow (Frances Conroy), perhaps the greatest character on the show (in our humble opinion), guided the young witches through their tasks. The young witches made it through the first few tasks with ease, but when it became time to visit hell, Misty Day didn't make it back in time. She was caught in biology class, forever reviving and killing a frog for dissection. High school was her hell. Also, how funny was Madison's hell? A live TV musical version of The Sound of Music. She wasn't even Maria!
After the ladies lost Misty in hell, it was time to teleport. Zoe, Madison and Queenie did it with ease, but they didn't heed Myrtle and Cordelia's (Sarah Paulson) warnings and Zoe ended up impaled on a fence spike. Lesson learned: Always listen to Myrtle Snow.
Queenie couldn't revive Zoe and Madison refused, but did revive a fly, proving she has the ability to restore life. Facing the prospect of Madsion as the Supreme, Myrtle realized she had been overlooking somebody the whole time: Cordelia. She is witch royalty, naturally. Cordelia flew through the Seven Wonders, including Divination. Madison fails to complete the task and storms away in true witch bitch fashion, promising to tell TMZ about the coven and all involved. She didn't get that far, though, because a grief-stricken Kyle (Evan Peters) strangled her to death. Why couldn't she just use her telekinesis to get him off her? We'll never know.
Ghost Spalding (Denis O'Hare) appeared—with the porcelain baby hand!—and said he'd help Kyle bury her so the witches wouldn't know. And Madison's death was for naught; Cordelia brought Zoe back to life, restored her own sight and completed the Seven Wonders. All hail the new Supreme!
Cordelia revealed the coven to the world in an interview with Jake Kane from Veronica Mars (Kyle Secor) and a new generation of witches made their way to New Orleans. But it didn't end there. Myrtle Snow demanded Cordelia punish her for the crimes she committed against the other members of the Council. You know, the people whose eyes she removed and then cut them up all Dexter-like. Cordelia resisted, but Myrtle demanded to be held accountable and for Cordelia to be a true, pure and rule-following Supreme. Auntie Myrtle returned to the stake once again, but this time in a fierce red dress. There goes our hope for a Myrtle Snow spinoff.
Before welcoming the new class of young witches to the coven, the former reigning Supreme Fiona returned with a giggle. Yes! She wasn't dead. Of course Jessica Lange wouldn't be killed offscreen. Mother and daughter have a Supreme heart to heart and for a while it looked like one of them would kill the other. However, Fiona passed away on her own while hugging her daughter. She awoke in her personal hell, a simple life with the Axeman. For a second we thought she was going to wake up and be on the farm from Tootsie and everything was a dream. Alas, it wasn't. Fiona died and went to hell and Cordelia began her reign as Supreme, helping young witches flourish. A sort of happy ending for such a twisted show.
What did you think of the American Horror Story: Coven finale? Are you happy with how things ended?