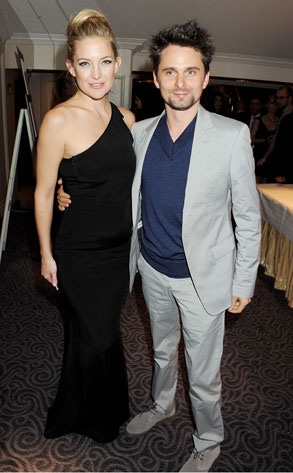 Dave M. Benett/Getty Images
Kate Hudson is definitely her mother's daughter!
Matthew Bellamy asked the Wish I Was Here star to be his wife in April 2011, but the rocker and the actress have yet to set a wedding date. During a Tuesday, Jan. 28, appearance on Live! With Kelly and Michael, the bride-to-be explained why she's in no rush to marry the Muse frontman.
"I'm planning nothing right now. I'm so busy, we've been so busy, and it's been great. I come from an unconventional family—they're not married, my parents aren't married," Hudson said of actors Goldie Hawn and Kurt Russell, who have been together since 1983. Hawn split from her daughter's biological father, Bill Hudson, in 1980. "There's a part of me that goes, if I'm going to do it, I'm going to do it right. I'm going to take the time to really plan it right, and it's a lot. Planning a wedding is a lot!"
Referencing her 2009 movie Bride Wars, the actress added, "I mean, I did a movie about planning a wedding and that was a lot, let alone actually planning a wedding! So, no. Not anytime soon, no."
In addition to acting and designing her own line of activewear, Hudson has also been busy raising her two boys. "Ryder just turned 10, which is so crazy, and he's such a dude," she said of her elder son with ex-husband Chris Robinson. "Bing is 2 and a half and it's just going [by fast]," she said of her son with British musician Bellamy, 35. "He is a drummer. That's all he wants to do."