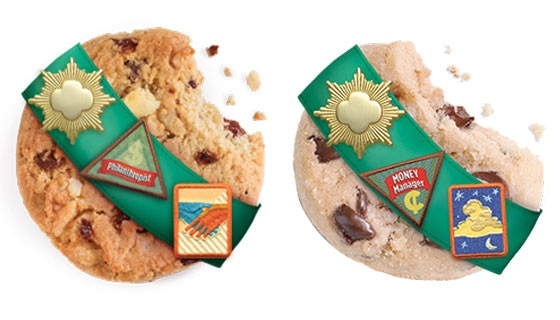 http://www.girlscouts.org
Change has come to the world of Scouting (that's Scouting with a capital "S"). Over in the Boy Scouts, gay youths no longer have to worry about facing discrimination based on their sexual orientation! And the Girl Scouts are now offering gluten-free cookies!
So some of the changes aren't as big as others, but for anyone you know who now subscribes to a gluten-free diet and has been jonesing to binge eat a box of G.Scout cookies, the latter is good news nonetheless.
The Girl Scouts of America are rolling out their first gluten-free cookie in 20 select markets: the Chocolate Chip Shortbread.
GSA's website says the cookie "is made with real chocolate chips and real butter" and that it "contains no artificial flavors, no artificial colors, no high fructose corn syrup, no palm oil and no hydrogenated oils."
If the cookies perform well in those locations, they may go national next cookie season.
There's another new cookie in the troop this year too: the Cranberry Citrus Crisp. And this one is all about whole grain, with the website exclaiming that it is "full of tangy cranberry bits and zesty citrus flavor."
The description continues:
A sweet addition for the new cookie season: this crispy cookie is filled with 9 grams of whole grain! Made with real fruit, this new cookie has no high-fructose corn syrup, and no artificial colors, flavors or sweeteners.
So, if you like berries over, say, CHOCOLATE, or MORE CHOCOLATE, these cookies are for you. As for what this mean for your beloved Thin Mints (and our favorite, the severely underrated Samoa)? Absolutely nothing.