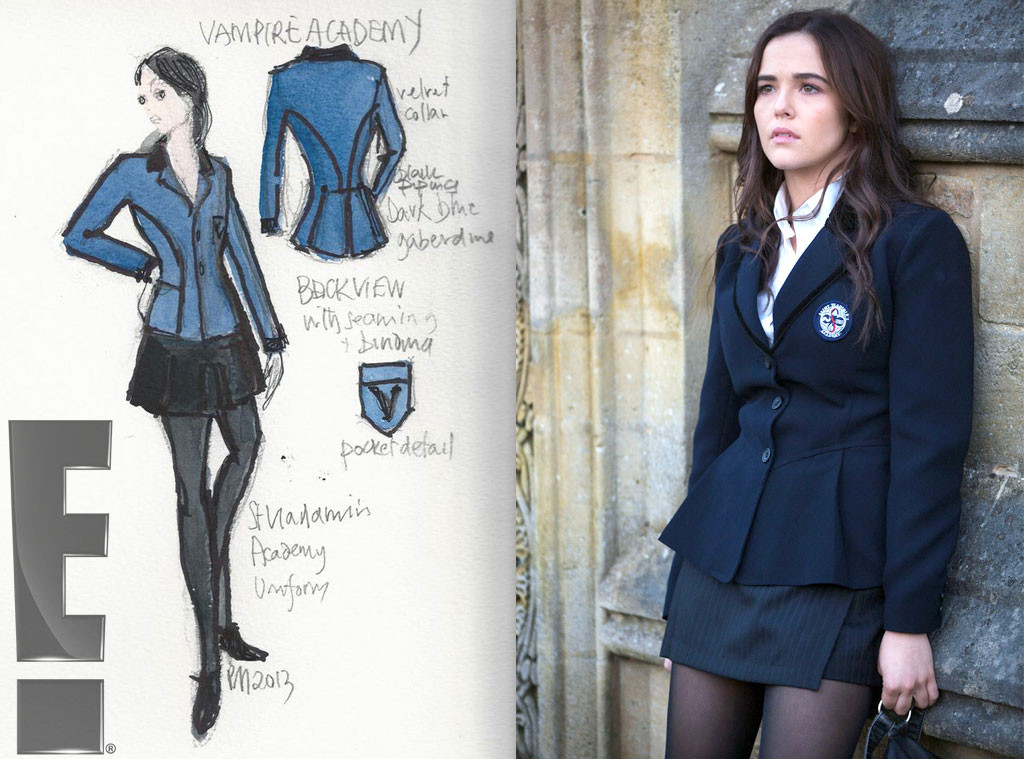 The Weinstein Company
There's a whole lot to love about Vampire Academy, the new movie about a vampire boarding school directed by Mark Waters (Mean Girls, anyone?), but one of our favorite things has to be the fabulous costumes designed by Two-time Academy Award nominee Ruth Myers.  
So what does a vampire wear to boarding school, you wonder? We caught up with Myers, who gave us an exclusive sneak peek at her personal costume sketches, as well as pics from the movie that's set to hit theaters next month.
From the school uniforms to Rose's prom dress (played by Zoey Deutsch), take a look at the fantastic costumes from the film.
St. Vladimir's School Uniform: "We wanted to go for something that was stylishly cut, chic and interesting, rather than the average school uniform," says Myers. "The students wore different black skirts according to their birthright—both short and mid-length—and the girls' jackets were fitted tightly with a flared peplum waist and braided at the collar," she explains. "The actors all loved their jackets and pleaded to take them after shooting wrapped!"
Rose's Prom Dress: This prom dress is especially important, explains Myers, because it signifies a shift in Rose's personality. "Up until this point Rose wears more tomboyish clothes, but this dress represents her flowering into a wonderfully sexy, strong, confident woman," says the costume designer. "It was a joy to see the way that Zoey really worked it in this dress." 
Rose's Workout Clothes: Rose becomes stronger as her training sessions continue, and so Myers wanted her workout gear to reflect that. "By the end of the film, her workout clothes (as seen here) are pretty minimal and form-fitting to show off her well-earned muscles," says Myers.   
Dimitri's Leather Coat: Along with Rose's outfits, Myers also let us take a sneak peek at costume sketches for male lead Dimitri. "This coat was specially designed and made for [actor Danila Kozlovsky] in soft supple leather so that it could hang perfectly and almost move with him," says Myers. "It's a gorgeous and romantic piece of clothing, meant to enhance his natural grace and beauty."