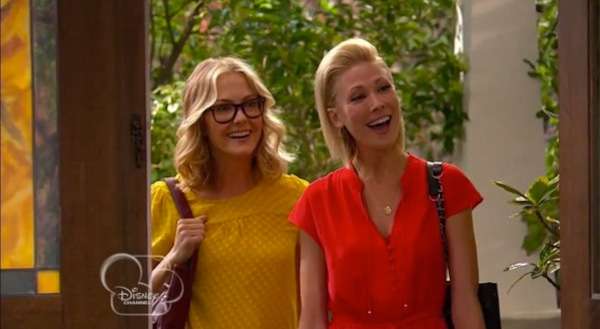 It's official: The Disney Channel got its Modern Family makeover.
After it was announced over the summer that the family-friendly show Good Luck Charlie will feature a character with two lesbian moms on an upcoming episode, the the groundbreaking episode aired on Sunday, Jan. 26—the same night as the 56th Annual Grammy Awards.
In the storyline, parents Amy and Bob Duncan (played by Leigh-Allyn Baker and Eric Allan Kramer) set up a playdate for their preschooler Charlie (Mia Talerico) with one of her new pals, who happens to have two mothers (TV Guide was first to report the news in June).
The penultimate episode of the show's fourth and final season also reportedly centered on Bridget Mendler's character Teddy and her best friend Ivy as Ivy prepared to head to college.
Jon Kopaloff/FilmMagic; Jamie McCarthy/Getyt Images; DISNEY CHANNEL/BOB D'AMICO
While there are certainly a number of both gay and lesbian couples featured on TV today, the kiddie channel took extra care before deciding to introduce the very first same sex couple on the network. 
"This particular storyline was developed under the consultancy of child development experts and community advisors," a Disney Channel spokesperson told TV Guide in a statement in June. "Like all Disney Channel programming, it was developed to be relevant to kids and families around the world and to reflect themes of diversity and inclusiveness."
Both Miley Cyrus and Evan Rachel Wood expressed their support for the unprecedented episode after the news broke. Wood tweeted "Hell Ya," while Cyrus wrote, "is this true?!?!?! I commend Disney for making this step into the light of this generation. They control…so much of what kids think! Life isn't bright sets & wardrobe & kids becoming superstars! This is INSPIRING."
Despite the praise from the former Disney star, conservative group One Million Moms (who infamously called for a boycott of JCPenney after the company's partnership with Ellen DeGeneres) slammed the episode for its content. 
"Just because something may be legal or because some are choosing a lifestyle doesn't make it morally correct," the group wrote in an anti-Charlie letter in June.  "Disney should stick to entertaining instead of pushing an agenda...Conservative families need to urge Disney to exclude confusing topics that children are far too young to comprehend."
"Unfortunately, children are now being exposed to same-sex marriage on a network that is designed for kids," the statement continued. "This is the last place a parent would expect their children to be confronted with topics that are too complicated for them to understand. Issues of this nature are being introduced too early and too soon, and it is becoming extremely common and unnecessary."
Good Luck Charlie premiered on April 4, 2010 and will wrap at the end of season four on Feb. 16 with a one-hour episode.