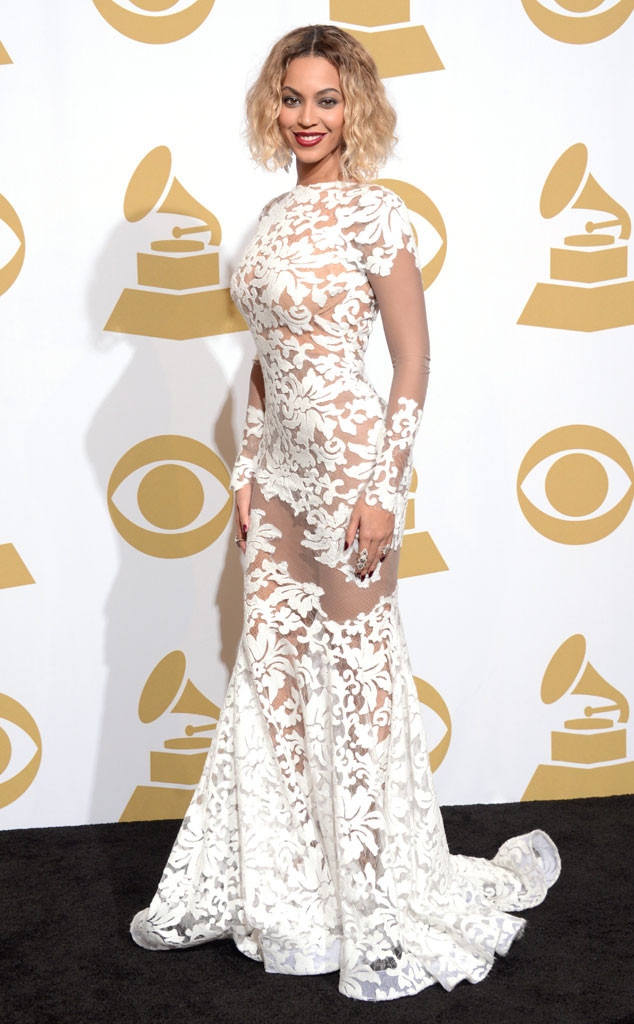 Dan Steinberg/Invision/AP
Viewers weren't even done thinking about Beyoncé's ultra-sexy bodysuit from her racy opening performance at the 2014 Grammy Awards before they were introduced to yet another revealing outfit by the star.
Bey showed off a perforated, white-hot gown by Project Runway's Michael Costello, that only covered up the naughtiest bits of her bod. And now, Costello dishes the details on designing the singer's gown for music's biggest night to E! News.
"It was incredible! We didn't have any of her sizes or measurements," Costello tells us. "The dress was just made to fit a sample mannequin. It's smaller than a size 4. She is tiny! That dress is at least a 2/4. She looks amazing. I just love the way it all came together. Ty [Bey's stylist] knew it was going to fit."
He continues, "At first I was a little concerned with the pieces I gave. Maybe it needs to be smaller or bigger? When you send something to Beyoncé, you're just a little concerned, but Ty knew. Ty knew the fit."
In fact, Ty didn't have have the fitting until the day of the show! Talk about pressure. Costello tells us the gown took three days to make and wasn't even finished when Ty came to see how things were going. "The neckline, the back, the hemline was not complete, and we still had to do some of the hand sewing on it," he tells us.
"We put in a good extra day's work. We had a great team. I made four other pieces that night for Beyonce, so that Ty had good options."
As for his inspiration, Costello tells us, "Well, the dress was inspired by New York. The Winter Wonderland in New York. I've been obsessed with New York, the culture, the lifestyle. I love visiting the city when it's covered in snow. I imagined snow falling onto plants, and trees. It was as if snow was falling onto fabric."
 
He continues, "When I found the fabric and cut out the leaves and flowers. It all came out together magically. I remember sketching out the dress, and I thought this is exactly how I wanted to do the dress."
David Russell/Lifetime Television
You'll actually see Bey's Grammy dress on the runway soon, too.
"The dress is a part of our collection called Winter Wonderland for New York Fashion Week. There are more pieces that are being worked on. There's a jacket made out of that fabric that's gorgeous, and a skirt in the same fabric that's sort of a mermaid skirt, which is awesome!"
Costello adds, "You're going to see me play with volume. You don't see me play a lot around with ball gowns. I always do a lot of draping and structure. So there will be some of that. I'm introducing a lot of new colors into my collection, as well as metallic and sparkles. It can't be a Michael Costello collection without the sparkles!"