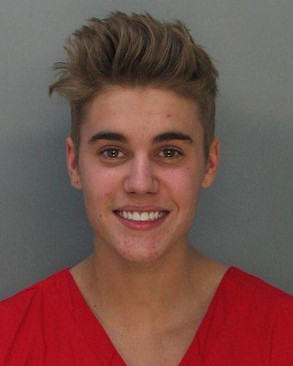 Justin Bieber's recent arrest made headlines for numerous reasons, and not all of those reasons had to do with his legal trouble and crazy antics.
After the 19-year-old pop star's mug shots were released, many people instantly noticed two things—his big grin and his unfortunate breakout. Bieber's smile was just funny because of the circumstances, but his acne became a topic of conversation because J.B. was actually a spokesperson for Proactiv for quite some time.
Bieber hasn't been signed with the acne-fighting team since March 2013, but the company says that they'll always have Biebs' back (or face?) if needed.
"Proactiv prides itself on having strong relationships with our celebrity fans. Drs. Katie Rodan and Kathy Field's dedication to helping people take control of their acne does not expire with the end of an endorsement deal," the company tells E! News in a statement. "If Justin is interested in receiving Proactiv, we are happy to work with his team to get him the products he needs."