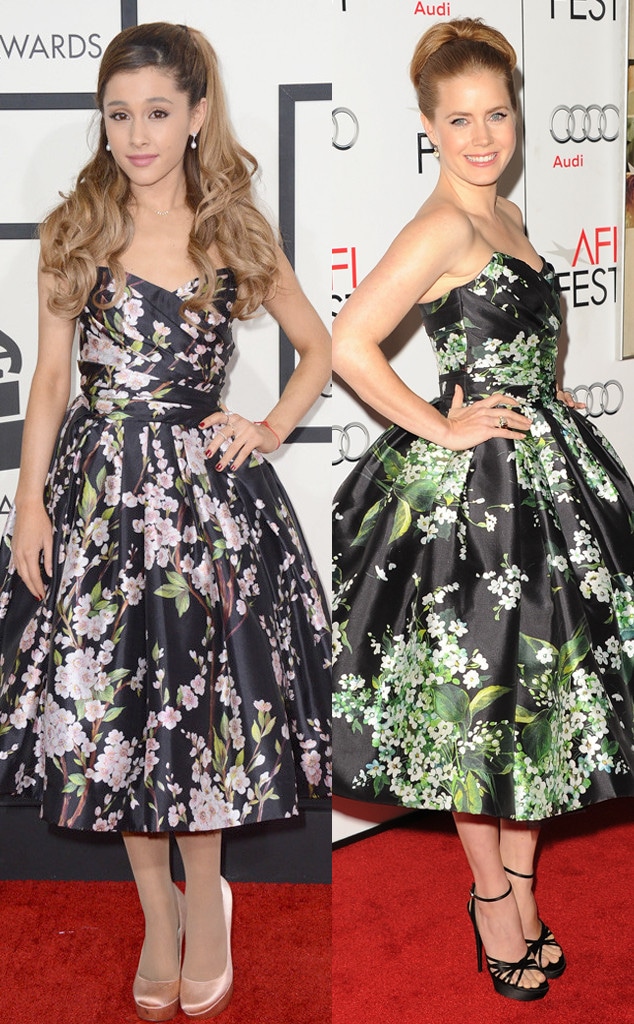 Jordan Strauss/Invision/AP; Getty Images
Apparently Ariana Grande has yet to be informed that there are strict rules about red carpet wear. Number one is to never steal a celeb's style in the middle of her race towards an Oscar.
Amy Adams is among the favorites for this year's gold statue meaning her every fashion move gets major focus.
So we picked out the "Yours Truly" singer's familiar look the moment we saw her on the Grammy Awards red carpet.
This kind of Dolce & Gabbana dress is unique and unforgettable meaning the young gun made either a major bo-bo or a very bold decision.
There are three elements that separate the former Nickelodeon star from the American Hustle actress:
1. Color - Ariana's pink-hued haute couture is sweeter than the Her star's mossy toned take, but the girly coloring makes the already young-feeling fashion look even more like a Sweet 16 dress. Point: Adams
2. The Shoes - It's a rose closed-toe versus a black strappy sandal. Once again, Amy takes it. The delicate dress needs a little edge, which her sky-high dark heel provides.
3. The Hair - We hate to be among the haters, but Ariana's half pony obsession has got to stop! This dress calls for an upswept 'do to highlight the gorgeous neckline and Amy totally delivers. It's officially a sweep!
What's your say on the steal?
AAA Fashion Police Jan 27 Poll