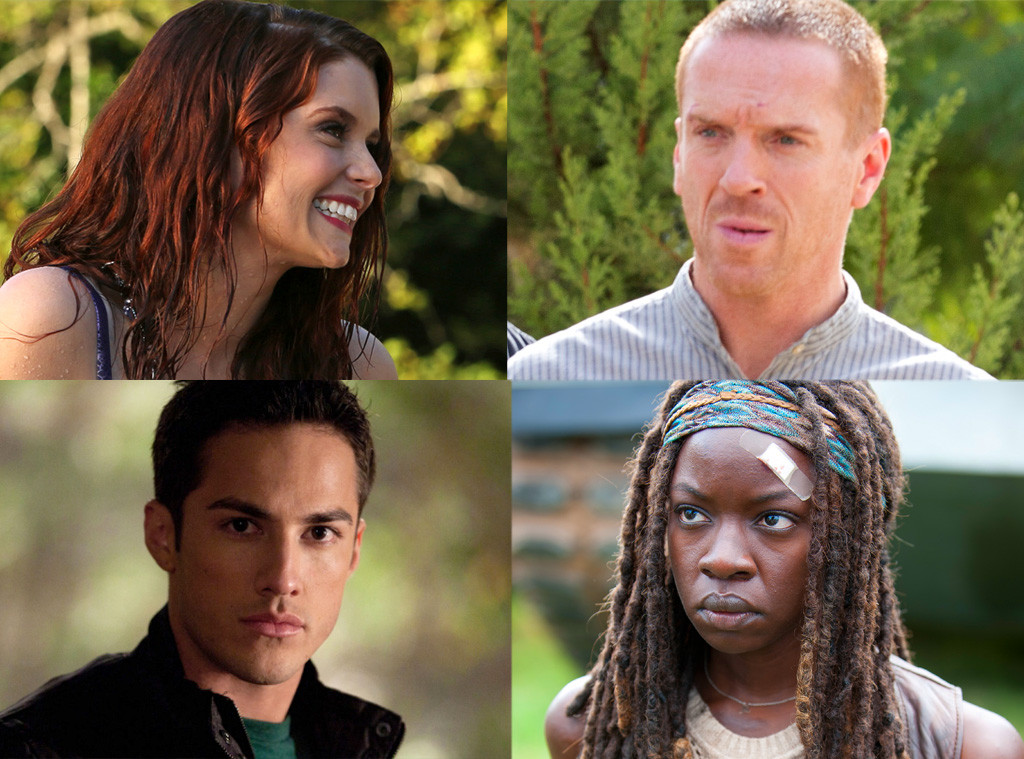 ABC; Showtime; CW; AMC
Rise and shine, TV Lovers!
It's a new week, so let's brush away those Monday morning blues, pour a cup of coffee, and start the day off with some delicious spoilers. Read on for scoop from The Walking Dead's midseason premiere, new details on The Vampire Diaries' lone wolf, and mesmerizing answers from Once Upon a Time's little mermaid.
Plus, we've got exclusive details from Homeland's Mandy Patinkin on whether or not Brody could ever return to the series. So go on, get your spoiler on…
Kimmie: I'd love some Parks and Rec spoilers, please!
Grab a gown and find yourself a hot date because we're going to prom in Pawnee! Tom and Ben are having a DJ-off and you won't believe what kind of music the kids of Indiana prefer dancing to these days. We just can't wait for everyone to see Ben's sweet moves because they're epically embarrassing.
Chad: I'm dying for The Walking Dead to return, got any scoop to help pass the time?
We just got done watching the midseason premiere and we're not going to lie, it's definitely not one of The Walking Dead's most exciting episodes. However, we are going to get a deeper peek into Michonne's pre-zombie life. We were shocked to see that before our stern-faced character became a sword-wielding killer, she was just a regular woman who smiled a lot. Living in a postapocalyptic world would definitely drain anyone of their happiness, but after learning more about her past, we're definitely more empathic with Michonne's cold exterior. 
Claire: When will Sophia Bush be on SVU? I'm really looking forward to seeing my two favorites—Sophia and Mariska Hargitay—on the same show!
Look for the Chicago PD star to show up in the Wednesday, Feb. 26 episode of Law & Order: SVU, the first show back after the Olympics. In it, a popular comedian becomes the target of students and the SVU squad when his jokes about women and rape raise ire and a student is assaulted by two of his fans. With their hands tied—the comedian has freedom of speech—the detectives have to find proof the comedian's actions reflect his words. A student comes forward and accuses the comic of rape, and Sergeant Benson slaps the cuffs on him. However, it's not smooth sailing and the case becomes increasingly complicated for the team. Yikes.
Hanna: Got any scoop on the new episodes of Twisted?
Hold onto your red jump ropes, because the winter premiere of Twisted is packed with shocking secrets. We just got done watching mind-blowing episode (We can practically feel your jealousy radiating through the computer screen!) and all you need to know is that many mysteries will be solved. Don't believe us? Here goes: You'll find out what really happened with Danny's aunt and the answer is completely unexpected!
Chloe: Can't believe Caroline hooked up with Klaus on Vampire Diaries. Poor Tyler! What's next for him?
Nothing too great, we're sorry to say! "He's going to struggle," Julie Plec says. "He's back, his revenge attempt failed, he doesn't really know what he's supposed to be doing with himself. He's not in college, he split with Caroline, Matt Donovan is living in his house. [Laughs.] So it's a journey for him to find his way."
Becca: Give me anything you've got on Glee!
Anything? You've got it: While many fans are eagerly awaiting the reunion of the original New Directions in the show's 100th episode, we're already hearing talks of another potential Gleek get-together. Jane Lynch exclusively told us that she is hoping to arrange a Glee face-off on her other hit series, Hollywood Game Night. "I want to do a whole Glee night. Everybody has been coming up to me, Chris [Colfer] wants to be back on, Matt Morrison, and then Kevin [McHale] and Jenna [Ushkowitz] keep asking to come on," she revealed. "Wouldn't that be great? We could get three of the kids and then three of the adults or maybe the Glee club originals versus the cheerios." 
Riley: I'm still in shock that Homeland killed off my favorite character! Any chance that we could still see Brody next year?
Don't worry Homeland lover, you're not alone. We're still pretty torn up over Brody's shocking demise as well. The good news is that we recently caught up with star Mandy Patinkin and he doesn't think that this will be the last of the sexy spy. When asked if fans should still have hope for seeing Brody again, the actor was very positive with his response: "I would say so. I don't think it will be a regular occurrence, but I think it will be an emotional, occasional occurrence," he said. 
I need some Once Upon a Time scoop! Is Storybrooke really gone?
We're still trying to process all of the magical mayhem that happened in December's jaw-dropping midseason finale, so to help get some answers, we caught up with everyone favorite little mermaid, JoAnna Garcia Swisher, to get some answers about what's ahead when the series returns in March. "Storybrooke is gone," she teased. Not to worry though, we'll still get to see the ravenous redhead. "Ariel's coming back, and I may have found my prince charming, but I think that you might need a little naïve mermaid to come back in town, maybe stir up some business." Take a look at our full interview with JoAnna below to learn even more spellbinding secrets. 
Related:
Joanna Garcia Swisher on Playing Ariel