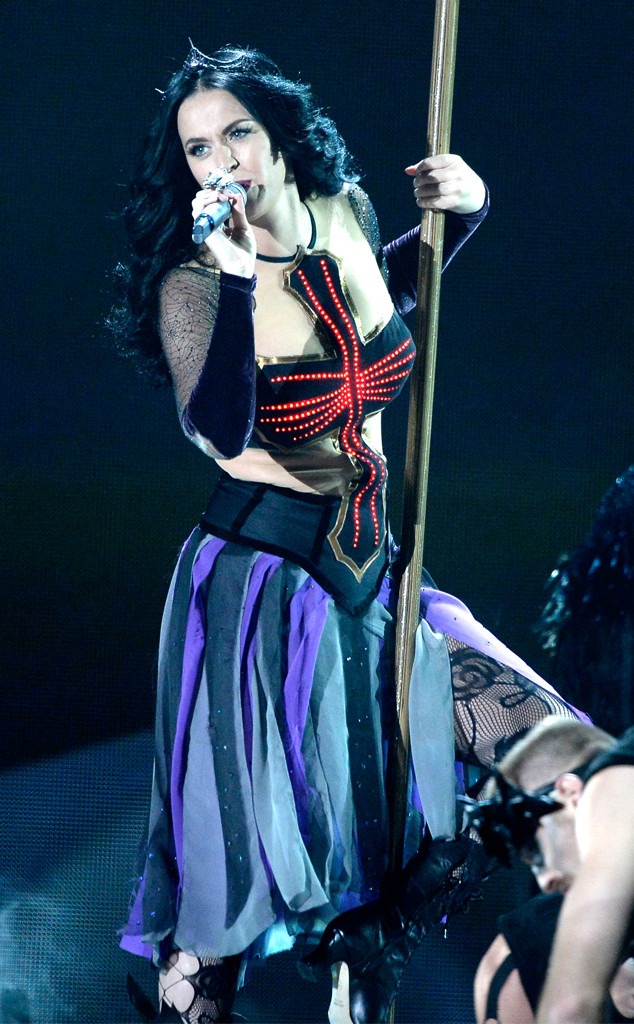 Kevork Djansezian/Getty Images
Katy Perry may just be one of the sexiest witches of the west.
The pop singer took the stage for the 2014 Grammy Awards in Los Angeles tonight, and followed through on what she teased to E! News during the red carpet earlier tonight. When asked about her performance by Ryan Seacrest, Katy told viewers that it'll be "spooky" and "dark," and that's exactly what it was.
But what she failed to mention was that it was going to be so sexy!
Perry, who sang her latest hit "Dark Horse" featuring Juicy J, took on the role of a dark witch. But along with casting love spells, she also twerks and knows how to work a pole witch's broom.
The singer opened the performance in a crystal ball, as human trees and darkness surrounded her. Along with all the smoke, contortionists flaunting how bendy they are and (shocker) a dark horse forming on stage, Katy showed off some of her dance moves.
At first, it was pretty simple—a little bob and body sway from time to time—but then she started twirling around an oversize witch's broom like nobody's business, clearing taking the attention off of her fellow artist that joined her on stage. Sorry, Juicy!
With a bit of booty bouncing and even a leg lift (!), Perry's moves became the focus of her performance. In fact, she was so hot, that the stage caught on fire! OK, that was on purpose (obviously) but still, it worked in her favor.
Get it, girl!