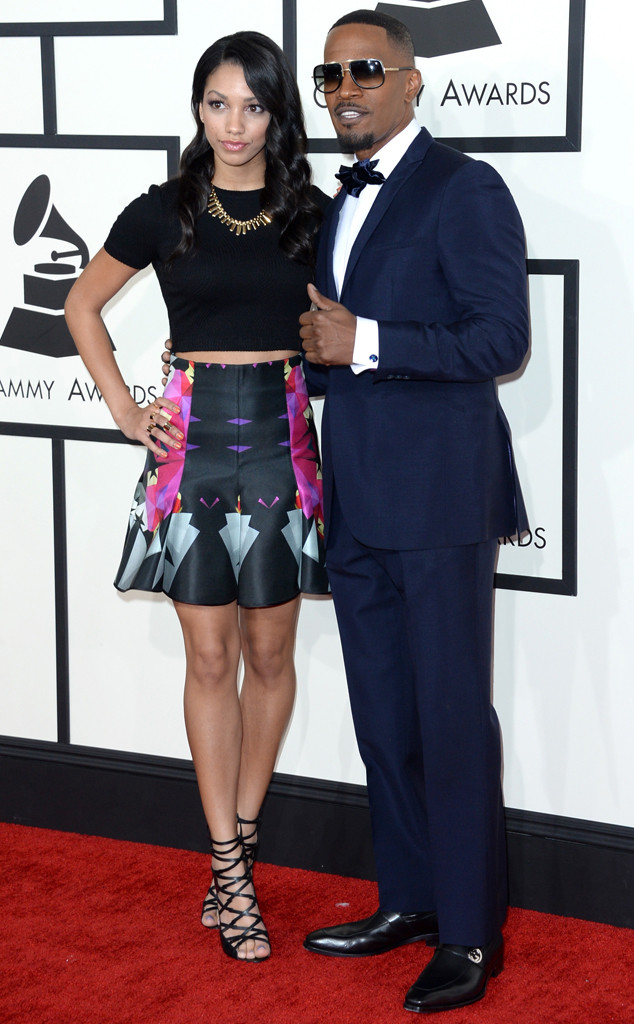 Jamie Foxx brought the No. 1 woman in his life to the 2014 Grammy Awards tonight: his daughter Corinne Bishop.
The 46-year-old father of two introduced his nearly 20-year-old "seed" to the world while being interviewed by Ryan Seacrest on E!'s Live From the Red Carpet.
The Django Unchained actor admitted that his daughter is indeed "growing up, trying to stay young, but she's doing her thing," while gushing that Corinne has "turned out beautiful."
When asked by Seacrest whether Foxx is a strict dad when it comes to Corinne's dating life, the young stunner admitted, "He likes to pretend to be really strict in the beginning and then he just becomes friends with them. So he does the dad rule and then he just plays it cool."
"I'm a softie, but at the same time she is the type of person who attracts the good guys," Foxx added.
The White House Down star, who attended Clive Davis' pre-Grammys bash last night also admitted that Macklemore was one of his favorite performers of the night.
"He came out a little nervous because that room was big," he said of the rap star, who, along with Ryan Lewis, has already won the award for Best New Artist. "But he came out honest, and he was great. I like when a person gets the chance to perform in that room because myself and Kanye [West] launched on that room."