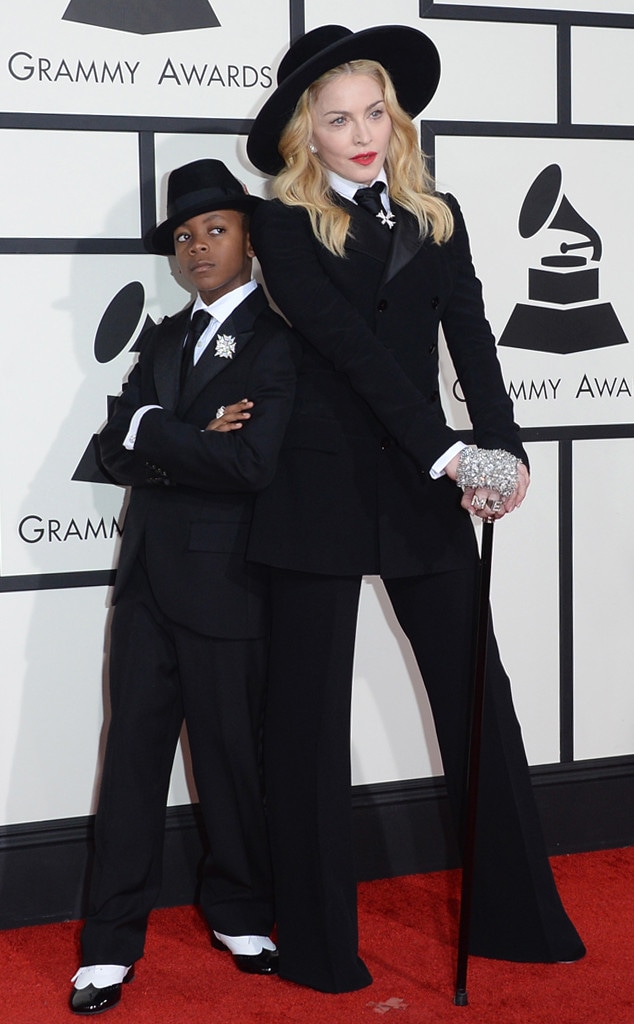 Jason Merritt/Getty Images
Madonna had a special date by her side on the Grammys red carpet: Her son David.
(We have a feeling she'll be more mindful of her hashtags tonight.)
The duo even coordinated outfits for their mother-son outing: "We're both working the Ralph Lauren angle," Madonna told Ryan Seacrest on Live From the Red Carpet. Spring 2014 Collection, to be exact.
And Madonna had an equally special stylist for the event. Because it was also David!
"For this look, I followed his lead. He dressed me tonight," the Material Girl revealed. "He wanted me to dress like him, so I obeyed him."
Watch:
Madonna Rocks Grill to Grammys
Madge accessorized the outfit with a cane (a result of a dance injury) and, of course, a grill.
"Yeah, I'm grillin'. It pisses everybody off when I wear my grill, so that's why I wear it," she said, before explaining that she wears a grill "when it matches my outfit. When I don't have to eat. Actually, I've learned to eat with my grill in.
No grills for David though. "She said she'd get me grills for this birthday," he protested, before Madonna got all maternal and chimed in, "I know, but we haven't had time. We have to go to the dentist to get a mold!"
Tonight, Madonna will take the stage with Macklemore and 34 couples will get married live on TV during their performance of "Same Love." "I wouldn't do any old song with any old artist, but I feel like history is going to be made tonight," she teased. "So I want to be part of that."