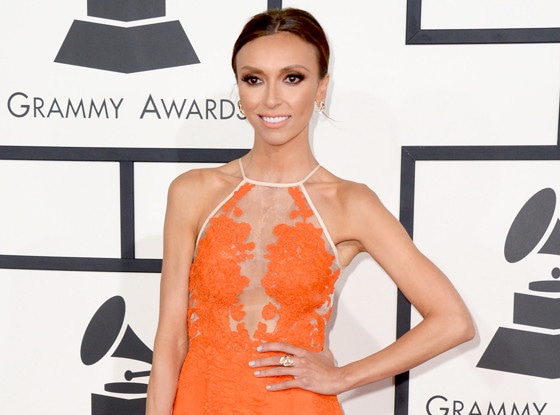 Jordan Strauss/Invision/AP
OMG, are you guys ready?!
The 2014 Grammy Awards kicked off tonight at the Staples Center in Los Angeles, and all of your favorite singers, rappers and musicians gathered together to honor the greatest musical creations over the past year. But before they could do that, they made their red carpet appearances.
As usual, the biggest names in music stopped to chat with E! News' Ryan Seacrest and Giuliana Rancic before heading into the show, and, per usual, had some very entertaining things to say.
So, before we enjoy music's biggest night, let's see what some of the A-listers told us on the red carpet...
Jason Merritt/Getty Images
"He just wanted it really sexy and soulful and bring R&B back to where we wanted it to be."
—John Legend on what Kanye West wanted for Legend's new album
"Sometimes my face just looks that way and it doesn't really mean anything. I was listening and just being a new artist, I'm not used to the camera staying on you for five minutes or whatever. I could learn to smile a little bit. There was no intention in that at all."
—Kacey Musgraves on her less-than-impressed facial expression during Miranda Lambert's CMA acceptance speech
"I would say we're all dazed and confused a little bit."
—Imagine Dragons on their success in the past year
"Probably hug her. I actually saw her last night, I was like, 'Wassup, Rihanna.' She was like, 'Good to see you, man.' I don't know if she'll remember me or not but it was great."
—Austin Mahone on meeting his celeb crush Rihanna
"I'll probably never get that opportunity again in my life."
—Hunter Hayes on debuting a new song on the Grammys stage
"She's the greatest thing in the world…She's the light of my life, she is."
—Ozzy Osbourne gushing about his daughter Kelly Osbourne on the red carpet
"Katniss Everdeen of The Hunger Games,"
—Sara Bareilles on what (or who) inspired her braided hairstyle
"I wish it would kinda bleed over to other parts of my life, but somehow it's just somehow reserved for that."
—Miguel on being smooth in songs but not in real life
"Well, you never know. You know what's possible? He's here, and I'm here."
—Ringo Starr on possibly performing with Beatles bandmate Paul McCartney
Jason Merritt/Getty Images
"Harry Styles has a thing for me."
—Kathy Griffin on wearing his coat during the Eagles concert
"It's basically got a bunch of books on it. I think it's empty."
—Jared Leto on keeping a coffin in his living room
"I should know what designer it is but I don't really pay attention to that at all."
—Ariana Grande on the designer of her jewelry
"Let it be. The bigger the bump, the better."
—pregnant Ciara on not having to stress about what she eats
"Staying highly medicated."
—Wiz Khalifa on what helps him perform his best
"When CoverGirl called me up and said, 'Do you wanna be a CoverGirl?'"
—Katy Perry on when she felt like she made it
"It's a surprise. Hopefully you won't recognize me…it's sexy!"
—Rita Ora on shooting Fifty Shades of Grey
"His voice is one of my favorite voices in the entire world. It's hard to continue singing when he's singing."
—Pink on performing "Just Give Me a Reason" with Nate Ruess
Jordan Strauss/Invision/AP
"He dressed me tonight, he wanted me to dress like him, so I obeyed."
—Madonna on matching with son David
"It's a great time for Seattle."
—Macklemore on supporting the Seattle Seahawks as they go to the Super Bowl
"I basically moisturize, cleanse and exfoliate. I woke up like this!"
—Kevin Hart on his great skin
"She was the only one to approve it."
—Robin Thicke on his wife Paula Patton liking the topless version of "Blurred Lines"
"Yes, but I have man-hands…I look like a potato farmer."
—Anna Faris when asked to do the Mani Cam
"It's so scratchy...I think it's bulletproof."
—Taylor Swift on her gorgeous Gucci gown
"She's wearing chainmail."
—Neil Patrick Harris on Swift's dress
"I'm not gonna have a Valentine on Valentine's Day, not intentionally, just because I'll be on tour and it's hard to coordinate that thing—like, hey, does someone want to fall in love with me between now and Valentine's Day?"
—Gavin DeGraw on his Valentine's Day plans