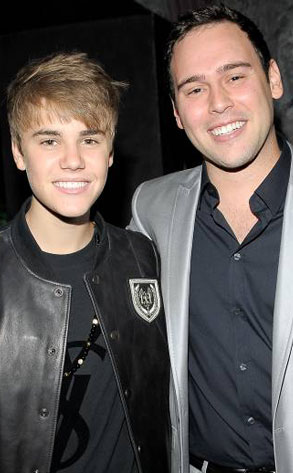 Courtesy of Wireimage
Seth Rogen may be having a field day with Justin Bieber's Jan. 23 arrest, but not everyone in Hollywood is as quick to cast stones at the 19-year-old pop star. Less than 24 hours after the "Never Say Never" singer was arrested and charged with driving under the influence, operating a motor vehicle with an expired license and resisting arrest without violence in Miami, his manager voiced his support.
"@justinbieber love you and i will act in the manner of someone who truly cares. that is all I have to say. thanks for all those concerned," Scooter Braun tweeted. He also posted a quote on his Instagram account that read, "What defines us is how well we rise after falling." The picture has since been deleted. Before the day was over, the music mogul, 32, tweeted, "Been a long day. Bottom line is we are defined by how we handle adversity. Be there when it counts. Love fully in good times and bad."