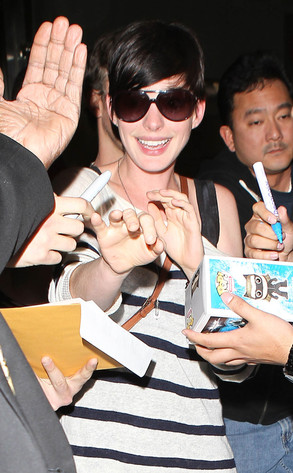 AKM-GSI
Paparazzi being as vigilant as they are, sometimes we don't notice when one of the movie stars we see all the time in magazines and online goes missing from an actual screen.
But now that we think about it, Anne Hathaway did go relatively MIA following her triumphant 2013 awards season—and now we know why!
"My impression is that people needed a break from me," she said (reportedly with a laugh) in a new interview with the Huffington Post.
While her profile could only be so low following her Golden Globe, SAG and Oscar winners for Les Misérables, she did pop up on the big screen only once during the rest of the year, in a cameo in Joseph Gordon-Levitt's indie romance Don John.