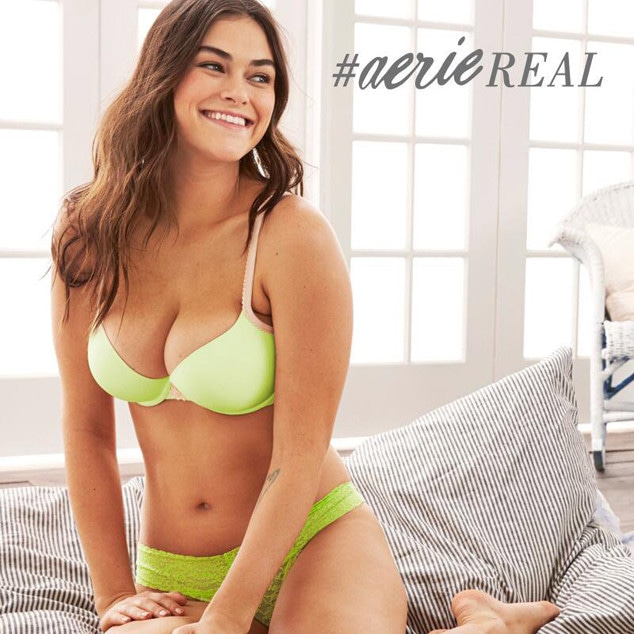 www.ae.com/aerie
Well, this is something new.
Typically we hear about models speaking out about what it feels like to be airbrushed into oblivion, but one Aerie model is opening up about what it feels like not to receive the Photoshop treatment.
Lingerie company Aerie recently released a new ad campaign featuring all completely real, totally unairbrushed models in an effort to challenge unrealistic supermodel standards for young women.
We've got to hand it to the brand for bucking the trend and honoring real beauty instead of taking a giant eraser to any itty bitty imperfection. 
We also say kudos to 28-year-old Aerie model Amber Tolliver who spoke with Elle.com about the importance of this campaign and what it feels like to be airbrushed. She admitted that she does suffer from insecurities, and sometimes she even enjoys seeing herself airbrushed.
"I do like to see a little retouching on myself," says Amber. "I mean, any normal person is slightly insecure about little things on their body, and you can blink an eye and poof, it's gone [in retouching], great."
But even though Amber admits occasionally it feels good to see her insecurities disappear (naturally!), she feels slighted when she sees herself retouched so heavily that she barely even looks like herself.
"To recreate a human being using a computer process is a bit of an attack on who you naturally are," says Amber. "Like, if I'm not good enough or if I'm not beautiful enough, then why'd you book me?
Um, excellent question! Amber revealed that Aerie's campaign forced her to come face-to-face with any little body insecurities she might have, and seeing the unretouched photos she realized, "Oh. That's not as big of a deal as I thought it was."
And let's be real here: Airbrushing isn't going away anytime soon. But Aerie's campaign proves that the media's portrayal of what is real, attainable beauty is slightly changing.
Do you think Aerie's no-airbrushing campaign will make a difference?