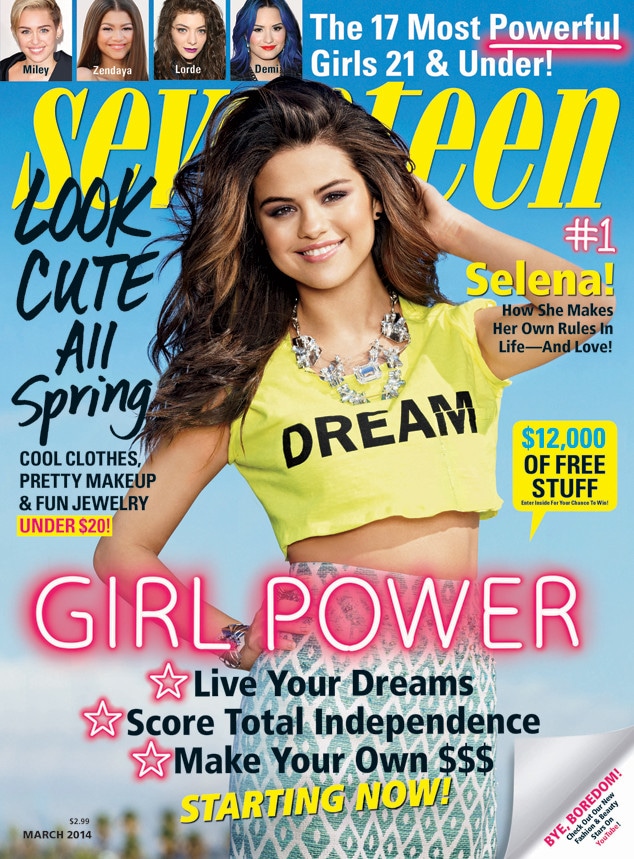 Ben Watts/Seventeen
All ladies could use some advice in the dating department. And Selena Gomez is no exception.
The "Come & Get It" singer, who graces the March cover of Seventeen's "Power" issue, reveals that she won't ever change for a guy and that she once talked about this very topic with a fellow pop star.
"I actually talked to Katy Perry about guys who are intimidated by strong girls," the brunette beauty shares with the mag. "I haven't found someone yet who could understand my lifestyle, support it, love me through it, and not be threatened by it. It's hard."
The Texas native adds: "I do think I might scare some guys, because I'm like, 'I want to change the world! I have dreams! What do you want to do?' But I only know how to be me."
Gomez looks radiant on the three glossy cover shots, sporting custom Elizabeth & James T-shirts with the phrases "Dream," "Brave," and "Confident."
The 21-year-old admits that she is feeling stronger than ever as she reflects on her past experiences and her breakup with Justin Bieber.
"This year is when I really started feeling powerful," the former Disney darling reveals. "I had always been the underdog secretly. I was on Disney when it was Miley [Cyrus], the Jonas Brothers, and Demi [Lovato]. I questioned the way I looked, acted, sang and wrote. Then I turned 20, went through a really bad breakup, and realized I needed to have 'Come & Get It' be amazing. I wanted it all to be me. I'm glad it's taken me this long to get where I am because now I am ready for it."
As for her fans, Gomez feels like she can't "do enough" for them.
"I work a lot, I work hard, and I get tired," Gomez explains. "But when you walk onstage and see these people who wait hours outside just to see you, it's the greatest thing in the world."
Gomez also talks about her supposed feud with another talented singer: Lorde.
"I recently did an interview and they asked me who I thought was up-and-coming and making a difference. I said, 'She doesn't like me, but Lorde,'" Gomez says.
The 17-year-old "Royals" singer originally slammed Gomez's song "Come & Get It" and said she was "sick of women being portrayed this way."
"I'm going to support her whether she likes me or not because I think she's doing great things," Gomez adds. "Some day I will see her and we'll be cool."