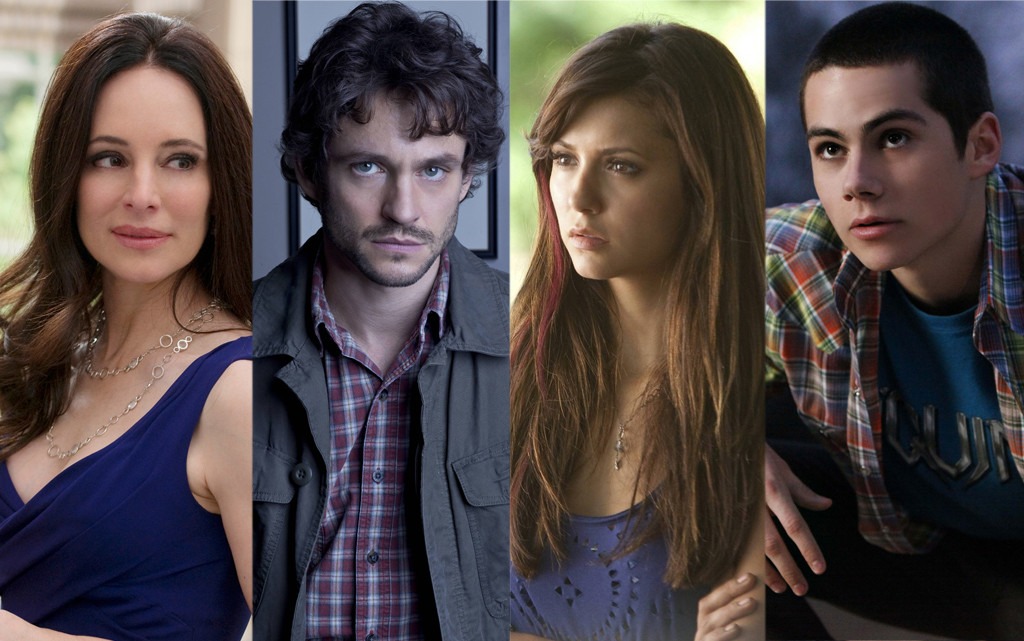 Mmm...smell that? It's the delicious aroma of fresh-baked scoop, straight from the oven.
OK, we totally can't bake, but we didn't manage to cook up some pretty juicy spoilers on some of TV's hottest shows, including the Revenge flashback that'll pack some romance revelations, The Vampire Diaries' new big bad and a new freshman coming to Beacon Hills High on Teen Wolf. Plus, we've got scoop on a new villain on Hannibal, Parks and Rec's next major event (break out the corsages!) and Hawaii Five-0's blast from the past. So what are you waiting for? Dig in!
Trisha: Anything on Modern Family?
Before the gang heads to Australia, they are taking a trip to Las Vegas, where they will be living it up. Seriously, the Pritchett-Dunphy group will even have their own hotel butler! So fancy! Too bad he soon finds himself overwhelmed by the family.
Debra: Can't wait for the 100th ep of Vampire Diaries, but kind of want to know what's coming up after it. I'm greedy, I know!
A new big bad! In episode 17, viewers will be meeting Markos, a charismatic but imposing leader from a faraway land. He's super dark, but people can't help but be drawn to him and he's worshipped by his followers. So Joe Carroll 2.0 basically?
Shawn: Any scoop on Revenge? It's so good this season!
Flashbacks, ahoy! In a juicy trip to the past, we'll see a younger Conrad and Pascal (aka Oliver Martinez!) and learn all about the history between the two men and Victoria, a ballerina at the time, who is being pursued by both businessmen. Too bad Conrad's wife, Stevie (played by Gail O'Grady in the present-day, as we exclusively reported), isn't too thrilled about that.
Sabrina: Obsessed with Teen Wolf. Dying for spoilers, please help!
We're so ahead of the game we've got scoop on season four to share with you already! A new freshman at Beacon Hills will be stirring up trouble. Or maybe we should say trouble will be looking for the handsome and cocky Liam, who has a big heart despite his bravado. Too bad he's totally not going to be prepared for the supernatural storm he's about to enter.
Cathy: Make it Reign please!
Your wish is our command. Penelope, a new kitchen servant will be making a name for herself when she wins an annual contest to become queen for the day, and promptly enters an agreement with Catherine for better treatment around the castle. Expect to see Penelope quite a bit throughout the rest of the season.
Jenna: Parks and Recreation is my favorite show so I am so excited that it's coming back for a seventh season! Let's celebrate with some spoilers.
Sneaky, sneaky. We love it. And what better way to celebrate than by dressing up and dancing the night away at prom? Oh yes, the Pawnee gang will be hitting up a high school prom in episode 18, aptly titled "Prom." And we're now taking bets on who will win Prom Queen!
Phil: Hannibal is returning so soon, so I'd love some scoop on what we'll see!
Hannibal Lecter will meet his match in the form of Mason Verger, the recently cast Katharine Isabelle's serial killer twin brother. Basically, he's Hannibal's version of Sherlock's Moriarty. Feel free to freak out at any time.
Alexa: You guys have been slacking when it comes to Hawaii Five-0. Make it up to us!
Chin are Jerry (returning guest star Jorge Gracia!) getting a blast from the past thanks to their high school reunion, where they'll meet up with some old friends, including the slightly sleazy Tony and David. But their reunion soon takes a dark turn when someone is murdered, and many of Chin's friends become suspects. Awkward! But Chin might have his hands full with the former homecoming queen, who has her sights set on him.
GOT TV QUESTIONS? Tweet them to @kristindsantos with hashtag #spoilerchat!
SPOILER CHAT comes out every Monday, Wednesday and Friday at 9 a.m. ET/6 a.m. PT. Bookmark the link!