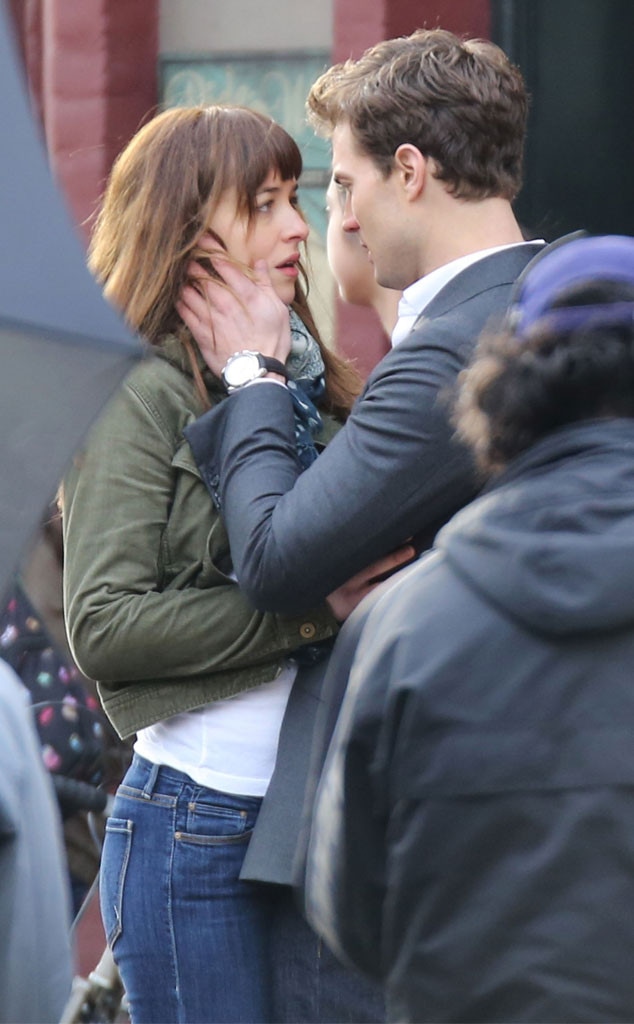 JKING/FAMEFLYNET
It sounds like not everything is going super hot on the Fifty Shades of Grey movie set.
Just a few days after the film's producer Michel De Luca told us that the chemistry between costars Jamie Dornan and Dakota Johnson is super hot, E! News has learned that there's a little bit of tension between director Sam Taylor-Johnson and Fifty Shades author E.L. James.
"Sam is getting annoyed about the way the script is being handled," a source tells E! News exclusively. "E.L. James wants the movie to match the book exactly, but Sam has a different perspective. Sam is reminding E.L. she writes books and she makes movies. This has caused some tension between the two of them."
Despite the director-author hiccup, Dornan and Dakota's relationship is just fine. "Jamie Dorman is really protective over Dakota," the source says. "She is very friendly and talks to everyone [crew, security, etc.] Jamie stays to himself and does not talk much. Jamie thinks Dakota gets really distracted, because she is so nice to people and so he will walk over to who she is talking to and try and end the conversation. He is nice about it, but he does ask them to leave her alone."
The source adds that "Dakota is nailing her role" as Anastasia Steele. "Everyone on set loves Dakota," they say.
"Sam has a great relationship with the actors," the movie source dishes. "The script is running smoothly and there is not a lot of re-shooting that has had to be done."
However, some local Vancouver residents aren't taking to Fifty Shades filming so smoothly.
While recently shooting a scene in the rain, the source says, "Neighbors at the building were upset over the noise and water flying everywhere. An older man continued to ruin scenes by opening his window and shaking a cowbell. He did not stop until they came to some sort of a resolution with producers. Another person in the building told production that if any water comes into his house, they will have to pay for the water damage. Residents are not happy with them shooting there. Eventually they met half way with the cowbell resident—they had to move the rain machine to another location."
—Reporting by Michelle Falls