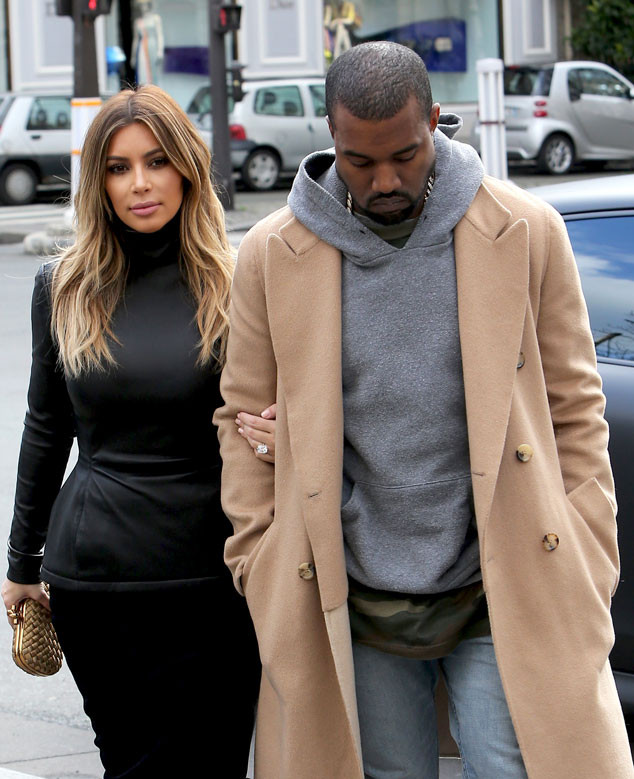 Splash News
Will Kanye West and Kim Kardashian be tying the knot at the Palace of Versailles?
The engaged couple, who is in Paris scouting wedding locations, spent an hour visiting the famed palace Sunday, after the Keeping Up With the Kardashians star and her rapper beau were dropped off at the gates by their driver, a source tells E! News.
Kim kept her attire casual for the visit, leading the way inside wearing Nike tennis shoes and black pants, where they met with officials.
Once their meeting was over, the "New Slaves" rapper and his fiancé tried to keep a low profile as they headed out, with Kanye wearing his hood and Kim looking down, trying to go unnoticed.
Their driver had the car waiting with the door open, so they hopped in immediately and drove off.
Marc Piasecki/Getty Images
Earlier in the day, The soon-to-be Mr. and Mrs. West grabbed lunch at L'Avenue restaurant, with Kim dressing up in a body-hugging black top, black pants and black strappy heels for their date. Meanwhile, Kanye rocked a long tan coat, skinny jeans and white sneakers.
Kanye and Kim seem to be having a blast in the City of Light since arriving there this week.
Aside from looking for their perfect wedding venue, they're also in town for Paris Fashion Week, and made some time to enjoy a romantic dinner Friday night.
According to an eyewitness, "Kim and Kanye went to Ferdi, one of their favorite places in Paris. It's an intimate restaurant with great food, and they often dine there when they are in Paris."
The eyewitness said the pair was "very lovely and affectionate," and that Kanye was "protective of Kim and making sure the paparazzi was not in her face."
Kim and Kanye spent over an hour eating at a little corner table in the restaurant, trying out different items that the eatery's managers brought out for them to try.
"Kim was very gracious and nice," the eyewitness continued. "They all shook hands and Kanye helped Kim get her coat. Then they left in a Porsche with their driver."
Kim met Kanye in Paris after gushing over their daughter North in an interview that aired on Ellen Friday, telling Ellen DeGeneres, "Her personality is so cute. She is really calm and really quiet."
Don't miss the season premiere of Keeping Up With the Kardashians tonight at 9 p.m., only on E!