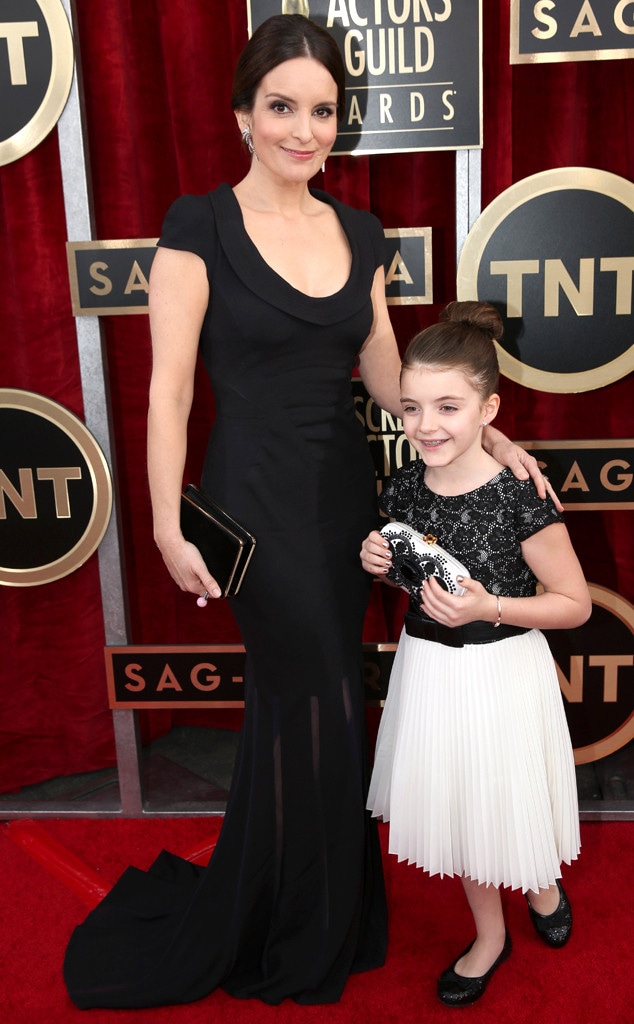 Matt Sayles/Invision/AP
Our new obsession? Tina Fey's daughter.
Of course, when you are raised by the great Tina Fey, you are expected to be awesome. And Alice did not disappoint us when it came to her mom's category, Best Actress in a Comedy, at the 2014 SAG Awards. Also known as: actors lovin' on other actors for their acting.
First, the mini-Tina Fey really played to the camera like a champ when the camera zoomed in on her mom while the nominees were called out. 
Look! Look how cute! Not nervous at all. If we had a camera on us like that, it would be one of three things: insta-vomit, insta-tears or insta-put-my-head-down-and-try-and-look-like-I'm-not-going-to-vomit-and-cry.
Mug away, Alice. Mug away.
But as happy as she was for her mom's nomination, she was exactly that amount of "over it" when Julia Louis-Dreyfus ended up beating out her pal Tina for her work on Veep.
As per usual, the camera cut to the losers and showed Fey clapping politely as JLD made her way to the stage. But Alice, who has not yet been taught to be diplomatic at awards show, did not hide the fact that she was very blasé about Julie winning. 
And we loved it. And so did Twitter, which blew up over how cute and honest she was about Tina's loss. If that's not a Liz Lemon face, then we don't know what is.
Alice Zenobia Richmond: new icon, new star, new everything.  If only all the other stars at these awards shows would be as honest as she was about losing. That would make things much more interesting.
Don't worry, Alice. Your mom is still Tina Fey, which makes you a winner for life.