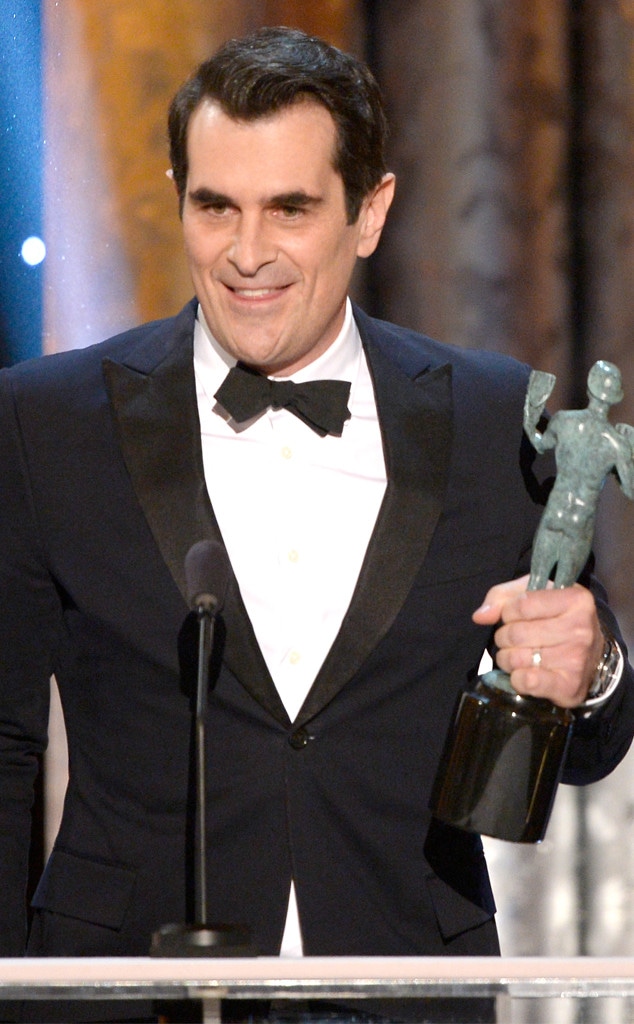 Kevork Djansezian/Getty Images
Sorry, Alec Baldwin!
In his final year of contention to win for his work on 30 Rock at the Screen Actors Guild Awards, Baldwin was dethroned by Ty Burrell, who won for his work on Modern Family. Baldwin had taken home the trophy for Outstanding Performance By a Male Actor in a Comedy seven years in a row prior to Burrell's win.
Modern Family also bested 30 Rock to take home the award for Outstanding Comedy Ensemble at the 20th annual ceremony.
And Burrell used his speech to give some advice to the young aspiring actors watching, saying, "I know most of you out here tonight have read my book, Acting: How to Do It Good, but I thought maybe…I would just go back over my five simple steps to success."
Below are his five steps for your enjoyment:
"1. Be born into a family that's never had an actor in it that way they think everything you do is cooler than it actually is, thus giving you a false sense of confidence.
2. Use that false sense of confidence to woo and trap a spouse that is better than you and is willing to overlook the fact that you have no apparent skill set other than being a needy extrovert.
3. Have no skill set other than being a needy extrovert.
4. Use that lack of skill to fail over and over and over again until you stumble into a job written by Chris Lloyd, Steve Levitan and our entire writing staff. Also at that job, make sure your coworkers are the cast of Modern Family.
5. Um, have a knack for memorizing."
And may we add a sixth step? If you ever do accept an award, make sure to follow Burrell's hilarious lead!