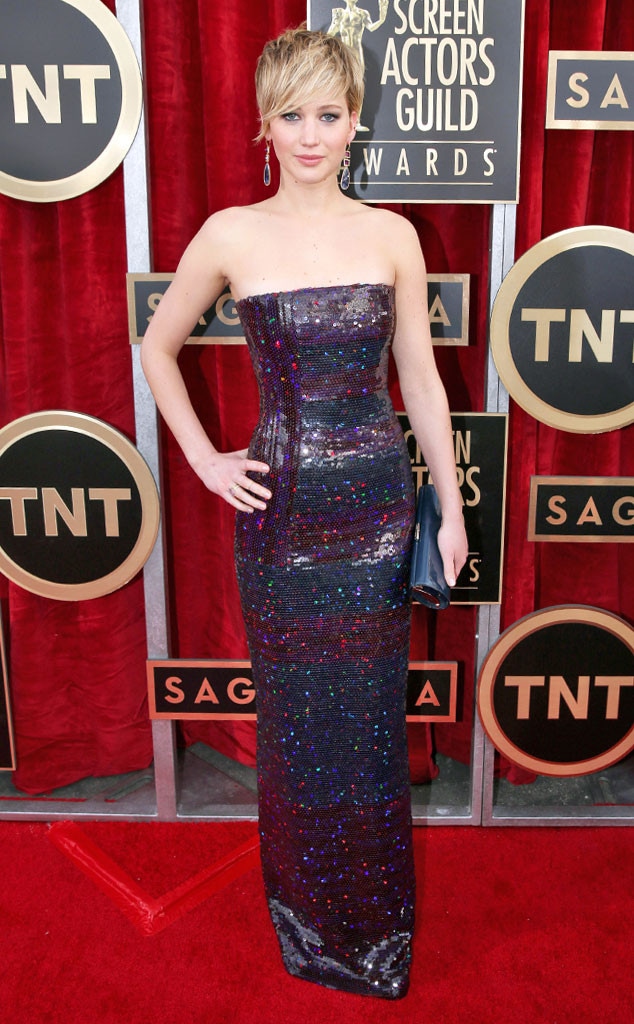 Matt Sayles/Invision/AP
Today's word of the day is brought to you by none other than the beautiful Jennifer Lawrence.
OK, so technically, it's two words, but you're hardly going to worry about technicalities when you hear what the Golden Globe winner said during her red carpet interview with Giuliana Rancic at the 20th Annual Screen Actors Guild Awards. 
While flaunting her gorgeous sequin, strapless Dior gown, J.Law seemed to be a little distracted, by her figure. "I know I have armpit fat, it's OK," she tells E! News. "Armpit vaginas, it's awful."
And there you have it: Armpit vagina. Thanks, Jen.
Watch:
Jennifer Lawrence Said What?
When she wasn't fussing over her pits (which, by the way, did not look bad at all) or getting mad that we caught her photobomb during Taylor Swift's interview at the Globes (sorry!), Lawrence told us some of Hollywood's big names that inspired her to get in the business.
"I remember watching Charlize Theron when I was really young. She's incredible. I love Sean Penn very much…Tommy Lee Jones…I could go on forever," she said.
The blond beauty recently earned herself an Oscar nomination for her role in American Hustle (which she already won a Golden Globe for), and where she drew her character from, Lawrence had a very simple answer.
"I just felt like there was this crazy woman inside me. I just let her go."