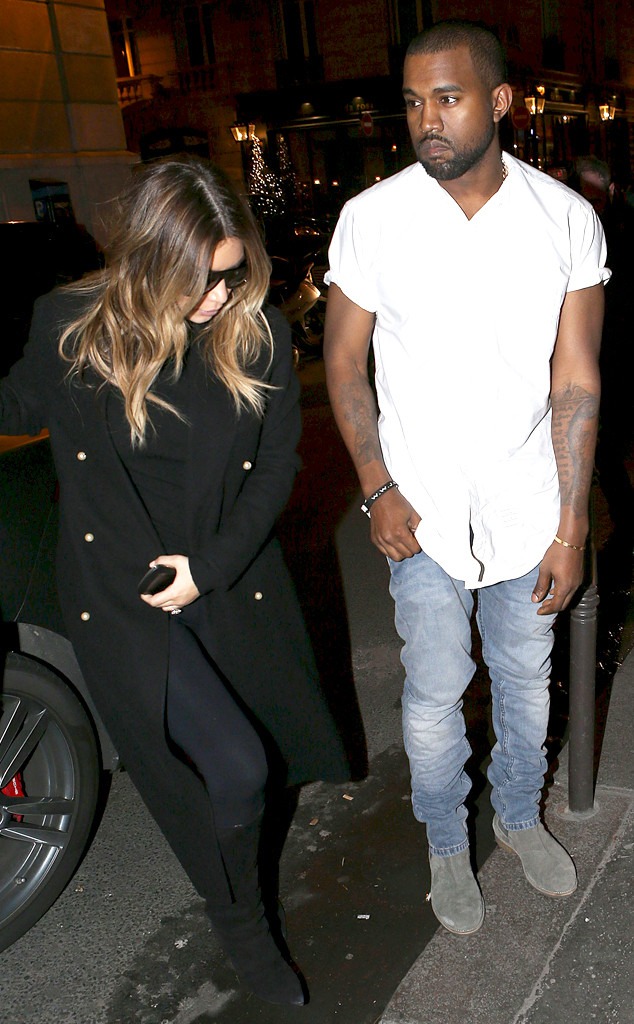 CHP/FAMEFLYNET PICTURES
Kim Kardashian and Kanye West worked up an appetite while searching for the perfect place to have their wedding.
The engaged couple was spotted heading out for dinner at the Ferdi Restaurant in Paris tonight after the duo spent time in the City of Light searching for a venue for their summer nuptials.
Kim stepped out in her usual all-black ensemble, wearing a long black coat with matching pants, blouse and boots. Kanye, on the other hand, wore his signature white button-up with jeans, and opted to take on the chilly weather without a jacket.
We first reported that Kimye were in wedding mode yesterday, after a source told E! News, "They are going to spend a few days looking at weddings venues in and around Paris. They are also going to do some shopping. They are really excited to find the right place for their nuptials. They are looking at a summer wedding."
The source added, "Kim and Kanye have decided not to use Sharon Sachs as they want to try a different direction from her usual style."
The 36-year-old rapper got to Paris before his ladylove and hit the Givenchy fall menswear Paris Fashion Week fashion show yesterday, where he sat front row and hung out with his pal, Givenchy designer Ricardo Tisci.
Don't miss the season premiere of Keeping Up With the Kardashians on Jan. 19 at 9 p.m., only on E!