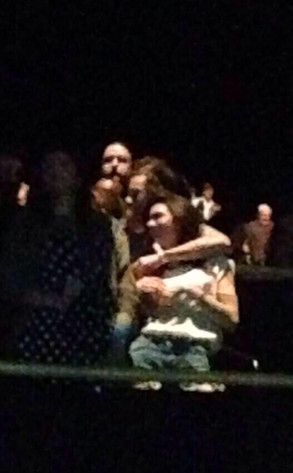 Twitter/www.youtube.com/user/BeautyAllure06
It looks like Harry Styles tagged along on the Kardashian-Jenner family's night out.
The One Direction singer was spotted hanging out with his rumored ladylove Kendall Jenner, along with Khloe Kardashian and Kris Jenner at the Eagles concert Friday night at the Forum, where the duo showed their first signs of PDA.
Milennia Vasquez, who took a photo with Styles last night in the midst of the pair's night out, told E! News she met the 19-year-old boybander after he accidentally showed her some affection when he mistook her for Kendall.
"My dad and I were backstage when suddenly someone hugged me from behind," the Beauty Allure 06 Youtube Channel host said. "I was surprised and I turned around and it was Harry Styles! I was like, 'Oh. My. God. It's Harry Styles!' He looked at me weird and said, 'Oh I'm sorry, I thought you were someone else!' Right at that moment I saw Kendall turn around and look at the two of us."