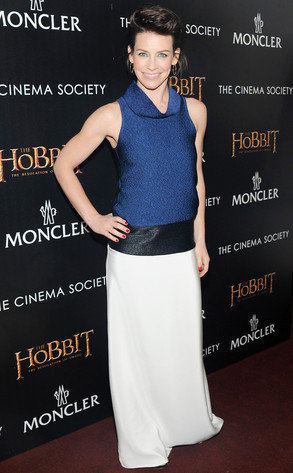 Evangeline Lilly is a beautiful, smart and talented woman, so she must be used to having guys come at her left and right...right? Apparently, no. (Yeah, we're shocked, too!).
The Lost star surprisingly revealed that once her fame skyrocketed, the number of men that would approach her plummeted.
Lilly, who is featured in DuJour magazine's January 2014 issue (on newsstands now), told the magazine, "Once I became a public figure, that ended. Men stopped talking to me. Because they think, 'Why would she want to date me?' But the irony of it is, that's exactly why you'd want to date them—everyone needs something to ground them in their life, and often for public figures, that's their partner."
Luckily, there is one guy who didn't let her star status intimidate him, and that's Norman Kali, Lilly's longtime boyfriend and father to her young son Kahekili.