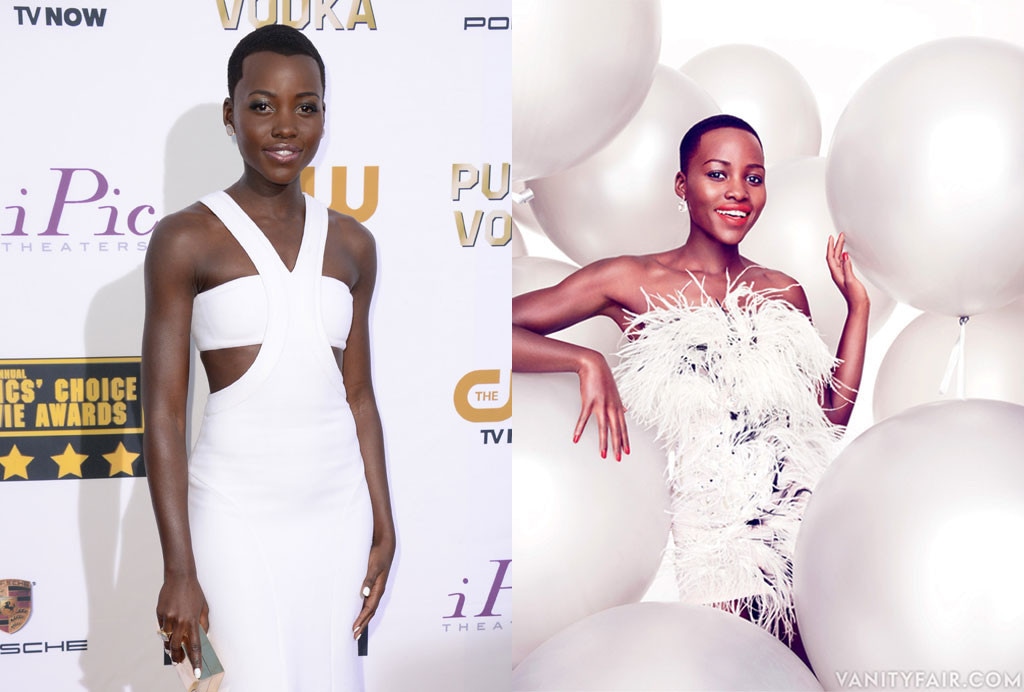 Jordan Strauss/Invision/AP, Miguel Reveriego/Vanity Fair
Vanity Fair is the latest magazine under fire for allegedly altering the appearance of a celebrity featured in its pages.
In February's issue, rising star Lupita Nyong'o is photographed for the Vanities section of the magazine and appears to have lighter skin than usual. Shown dressed in a feathery white dress and surrounded by white balloons, the 12 Years a Slave actress looks radiant in the image.
But after the magazine tweeted the shot, fans took aim at the publication for allegedly photoshopping her complexion.
And while some have accused Vanity Fair of altering the image of Nyong'o, who was born in Mexico but spent her childhood in Kenya, some readers have chalked it up to the photographer's flash.
Regardless of what people claim, it seems as though the beauty as put her stamp of approval on the shot.
She posted the picture in question on her Instagram a week ago and wrote, "Thank you @VanityFair for featuring me in #vanities in this February's issue. A fun shoot for sure."
What a class act!
Earlier this week, Vogue was called out for altering images of Lena Dunham in their newest issue.
Jezebel offered up $10,000 to see unretouched version of the spread, which offended the Girls star.
"10k? Give it to charity then just order HBO," she tweeted. "Some s--t is just too ridiculous to engage. Let's use our energy wisely, 2014."
Within two hours of the original post, the feminist blog got several unaltered pictures from the Annie Leibovitz shoot.
Vogue then had the last laugh by posting this amazing behind-the-scenes Instagram of Dunham.