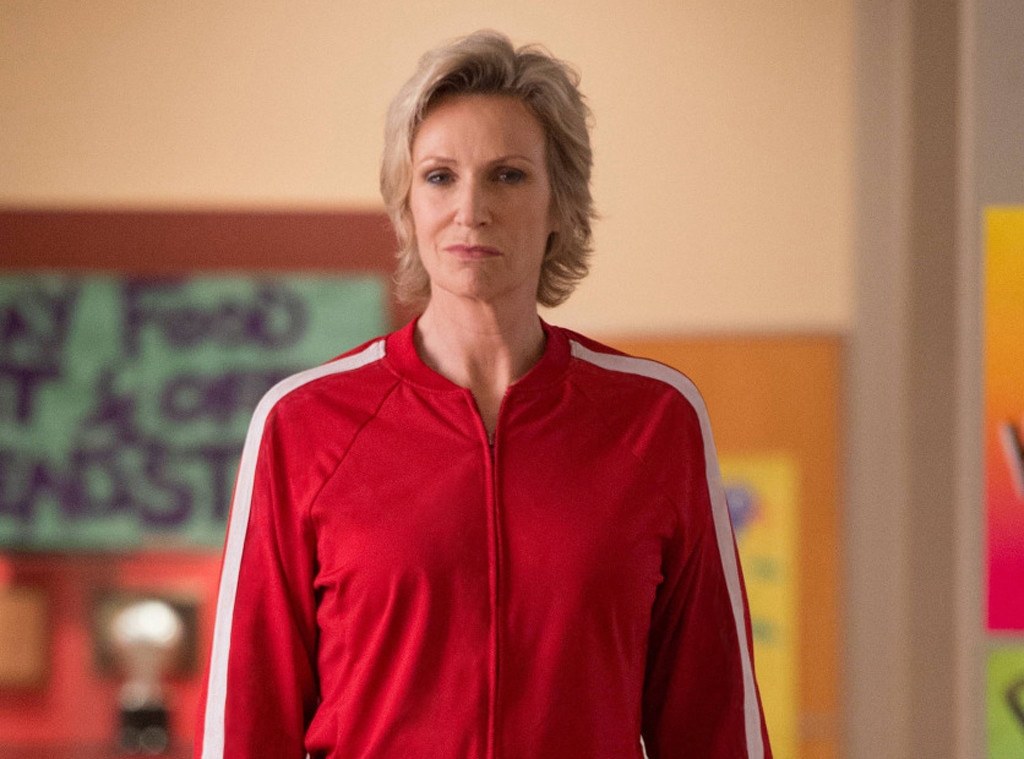 Mike Yarish/FOX
Better watch out, New York City. Glee's most vicious, conniving and downright evil resident is coming to town and she's bringing a suitcase full of insults and offensive behavior.
Sue Sylvester is already packing up her vast wardrobe of colorful tracksuits because, as Fox's Entertainment President, Kevin Reilly, revealed earlier this week, the Cheerios coach is headed to the Big Apple. "As long as there's a show, there's Jane Lynch," he said.
We recently chatted with the host of NBC's Hollywood Game Night and Lynch revealed exclusive details about what's coming up for Sue—aka the character that everyone loves to hate. Plus, the actress spilled secrets on Glee's star-studded 100th episode. 
Following graduation, the characters of the hit musical comedy will be transitioning to an all-NYC storyline in the second half of this season. Although we know that some fan-favorites like Blaine (Darren Criss) and Artie (Kevin McHale) will be making the move, others students' fates are still unknown.
"I don't know what they're going to do," Lynch admitted. "I understand that they're not going to say goodbye to a lot of the kids, either. I think there are a bunch of kids who are going to go and I think they might check still in at McKinley."
The Emmy award-winning actress is thrilled that Sue will still be involved in a lot of the season. "I'm going to New York from what I understand. I haven't heard how or why, but I'm excited to see," she said.
So what does a multiple national championship cheerleading coach turned school principal do in New York? Lynch explained that it might be time for Coach Sue to retire her megaphone and step away from the students.
"I bet you she has a career change. I think it would be really cool if she goes out there to be an actress and she does a one woman show and just becomes this huge hit." she continued, "All these people working so hard to become actors and performer and professionals and I just kind of waltz in and become a big splash."
Hopefully Sue remembers to bring her baby girl, Robin, along for the big move. (Okay, admit it: Who else totally forgot that Coach Sue is a mama? Our hands are totally up right now and we have no shame.)
And with Glee's extremely hyped 100th episode just around the corner, Lynch said that she is spending a lot more time on set than usual in order to catch up with her old costars. "Everybody was back in the choir room yesterday, so I moseyed on over there and said hello to everybody," the actress said.
"It's so cool to see Lea [Michele], Jenna [Ushkowitz] and Chris [Colfer] all in the choir room. Amber [Riley] was there and Dianna [Agron], who I hadn't seen here in a while, and Mark [Salling], so everybody was back and it was great," Lynch explained.
The Glee star also admitted that she "really hopes" that Sue can have a mini-Cheerios reunion with Heather Morris, Naya Rivera, and Agron in the milestone episode. "The 100th episode is actually a double episode so it's 100 and 101, and I haven't read the second part of it yet," she said. "But that would be pretty cool to get back with Heather and Naya and Dianna and have them smell their armpits."
If you're a true Unholy Trinity fan, you should know exactly what Lynch is referring to…
Glee returns Tuesday, Feb. 25 at 8 p.m. on Fox.