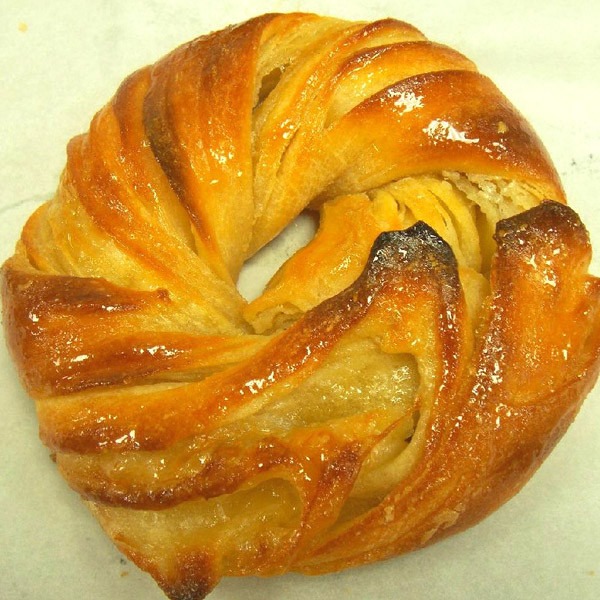 thebagelstoreonline.com
Is the Cragel (not to be confused with a Kegel—that's something else and you can't eat it) the Cronut of 2014? Maybe. The Cronut may be the Cronut of 2014: People are still waiting in line for them and Dominique Ansel just officially trademarked the name. 
So what's a Cragel?
A Cragel is the brainchild of The Bagel Store in Williamsburg, Brooklyn (though Norwalk, Conn., grocer Stew Leonard has a variation of it). It's a half croissant, half bagel and apparently "100 percent happiness." 
The Bagel Store describes it as "a delicate, flaky, buttery croissant baked into a flavorful tasty bagel" that has "all the characteristics of a bagel with the delicate flaky taste and texture of a croissant."
The Cragel debuted last September, but has only just gone viral in the past few days. The Bagel Store's owner, Scott Rossillo, says they make hundreds per day but, "We can't keep them on the shelves!" 
Gothamist writer Jen Carlson got her hands on a Cragel (without any problem, it seems—she says she arrived before 8 a.m. and there was no line) and says it's "a little sweet and sticky on the outside, but otherwise they are just fine." 
"We wouldn't complain if they were a little more croissant than they are bagel, but if you're more into the latter these are for you," she continues.
As for how it stacks up to its half-donut, half croissant cousin, another Gothamist staffer says, "These are delicious. In a Cronut v. Cragel smackdown these should hands-down win."
Right now there is only one flavor of Cragels, but Rossillo says new flavors are "a possibility."
Seeing as the store's bagel roster includes a French toast bagel, a Tex Mex cheddar jalapeno bagel and a buttery salted pretzel bagel (as well as seasonal selections, like a "Roses Are Red" bagel made with real rose petals for Valentines Day and a whiskey bagel for St. Patrick's Day), we have a feeling new flavors will arrive eventually. We just have no idea what they will be. 
Rossillo say the Cragels are best "with a sweet spread such as blueberry cream cheese, Nutella or limited-edition pink champagne cream cheese," while his assistant, Ross Helrich, prefers to use them for a breakfast sandwich. 
"These are not your father's bagels," said Helrich.
Cragels cost $2.95 a piece and there are two The Bagel Store locations in Brooklyn. One store is open every day to serve your Cragel needs (check hours on their site) and they'll also ship them anywhere in the U.S.