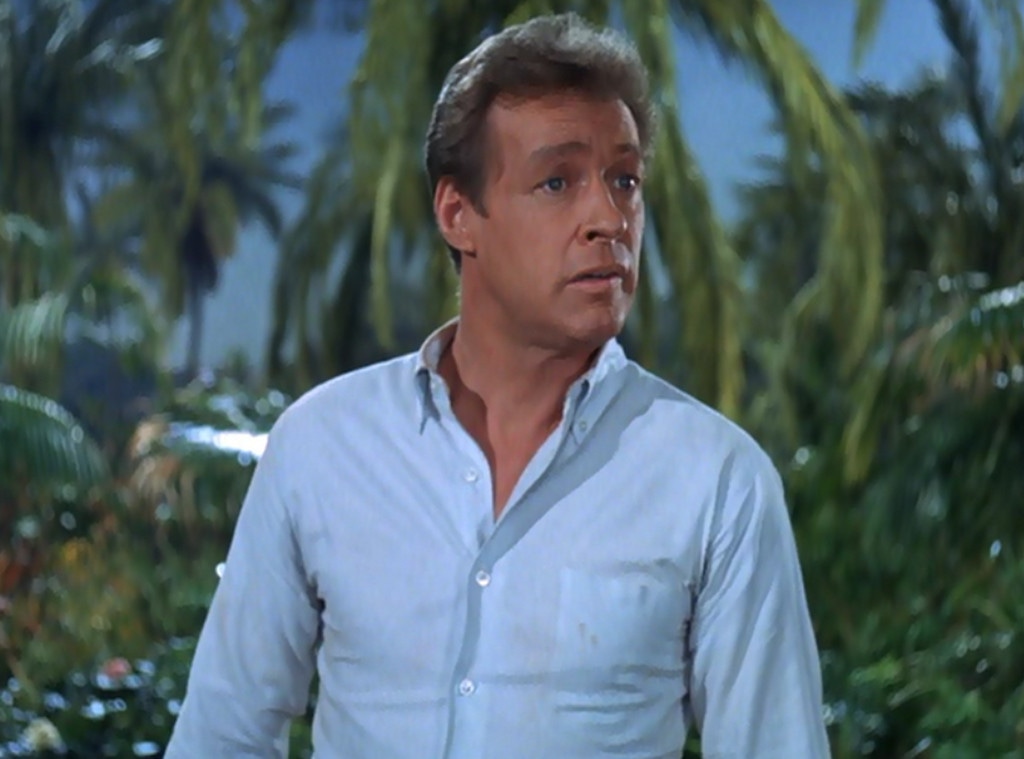 CBS
Sadly, another castaway has left the island for good.
Russell Johnson, best known for playing the brainy Professor on Gilligan's Island, has died, E! News confirms. He was 89 and the last surviving male star from the classic 1960s sitcom—which famously listed all of its characters in the more well-known version of its iconic opening theme song.
We're told that the actor died of natural causes Thursday at 5:21 a.m. at his home with wife Constance and daughter Kim by his side.
"He was a gentleman, very kind," Johnson's agent, Mike Eisenstadt, tells E! "He was very smart and very respectful. He was a nice, normal guy."
Johnson retired from acting in the 1990s but still made Gilligan's Island-related appearances in more recent years.
The Pennsylvania-born actor worked regularly in TV and films for more than 40 years, appearing on the likes of The Twilight Zone, Lassie, The Lone Ranger and The Jeffersons. He was also on the big screen in the cult sci-fi classic It Came From Outer Space and in a number of Westerns, including The Stand at Apache River and Tumbleweed.
But he will always be remembered as the coconut-radio-building Professor, the single-and-unconcerned heartthrob of the bunch, alongside Bob Denver, Alan Hale Jr., Jim Backus, Natalie Schafer, Tina Louise and Dawn Wells on Gilligan's Island.
"I've had people in the ensuing years say to me, 'If they did Gilligan's Island toda,y you'd all be living in the same tent.'  It's true. That innocence was kept and it worked," Johnson said in a 2004 interview for the Archive of American Television, discussing the standards the sitcom maintained in a time when Wells' Mary Ann wore plenty of crop tops but never actually showed her belly button and there was a constant conversation going over how much cleavage Louise's Ginger should actually flaunt.
CBS Photo Archive/Getty Image
About The Professor's comical obliviousness to Ginger, Mary Ann and various female guest stars' advances, Johnson said they definitely kept his character "asexual" on purpose.
"They didn't want anything going on in the show that had anything to do with sex, in the cast," he explained. "They kept him a guy who didn't really know what was going on. They brought Zsa Zsa Gabor in once for the show, and she makes a play for The Professor. She was all over him. And he's talking about [butterflies] and flora and fauna."
"My 2 favorite people are gone now. The Professor [passed] away this morning," Wells wrote on Facebookalong with a pic of her, Johnson and Denver. "Russell was a true gentleman, a good father, a great friend, and 'the rest.' I love him and shall miss him. My heart goes out to Connie and his daughter Kim. I love you."
Married three times, Johnson is survived by his wife, actress Constance Dane, stepson Courtney Dane and daughter Kim from his second marriage. His son, David, died of AIDS in 1994, inspiring Johnson's activism as a fund-raiser for AIDS research.
—Reporting by Michelle Falls and Marcus Mulick