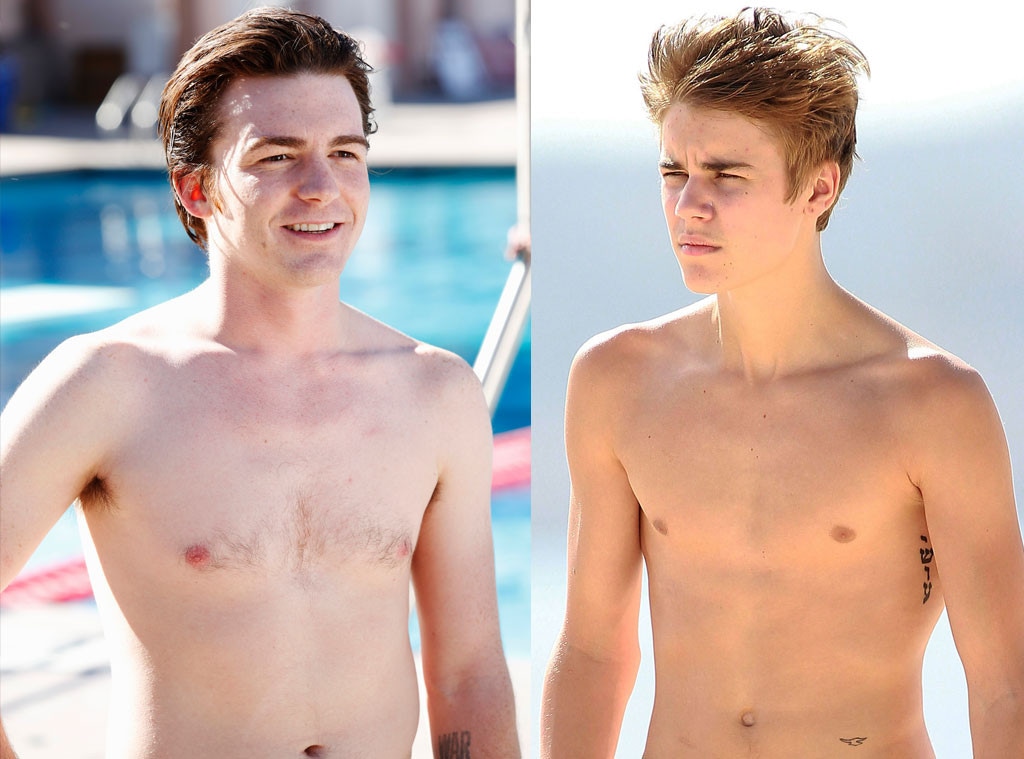 Kelsey McNeal/ABC, Rocstar/FAMEFLYNET
Drake Bell is at it again.
The Drake & Josh star reignited his longstanding feud with Justin Bieber via Twitter on Wednesday, Jan. 15. The actor and former Splash competitor, 27, used the social networking site to blast the pop star, 19, for allegedly egging his neighbor's house late last week.
Police raided Bieber's L.A. home on Tuesday, Jan. 14, to look for evidence and video surveillance footage that could potentially link him the incident. Rapper Lil Za was arrested and charged with felony drug possession, which was "in plain view." Law enforcement officials originally believed they found cocaine, but later told reporters that it was MDMA, a form of ecstasy commonly referred to as "molly."
Bieber was not charged with drug possession, but Bell accused him of owning the illegal drugs. "Hey @justinbieber how much are you paying Lil Za to take the coke wrap for ya? Be a man and take responsibility. Learn to be an ADULT!" he tweeted. "@justinbieber instead of egging speeding around your neighborhood and defacing property like a little s--t you should practice your guitar!!"
Bell has since deleted the tweets. He later shared a picture of Bieber's graffiti art and tweeted, "When is someone going to tell this idiot he can't draw. His art is almost as bad as his music. Talentless artless."
The "Hold Tight" singer didn't respond to the tweets himself, though his BFF Milk Tyson stood up for Bieber via his own Twitter account. "@DrakeBell tweeted from the elephant bar in la Mirada. He's no longer there. They said his shift was over," he wrote. "Just want to talk @DrakeBell call me."
Bell replied, "haha actually just a quick bite after Disneyland...What do you do again?" Tyson fired back, "You sure seem to have a crush on jus you talk about him enough @DrakeBell stop being a bully bro it's a bad look. I don't twitter beef. Talk," he tweeted. Bell replied, "um....not mad. just responding." Tyson didn't seem satisfied with the actor's answer. "Blah blah blah I don't talk tough on twitter @DrakeBell & I do love my brother, that's why 1 day you'll answer for your bully s--t," he wrote. "Call me when you want to stop hiding behind a keyboard and talk like a man @DrakeBell."
The "Terrific" singer then told Tyson, "um....nope not in love with him like you sorry." At Tyson's request, Bieber's fans found Bell's alleged phone number and address and posted it online. "Drake Bell called Justin 'talentless' - says the guy who started from the bottom, but is still there," one Twitter user sniped.
Bell dissed his pop peer on at least three separate occasions in 2013. In one instance, the TV star made fun of Bieber's height and told the singer that he has "the worst most insane fans in the world!!"