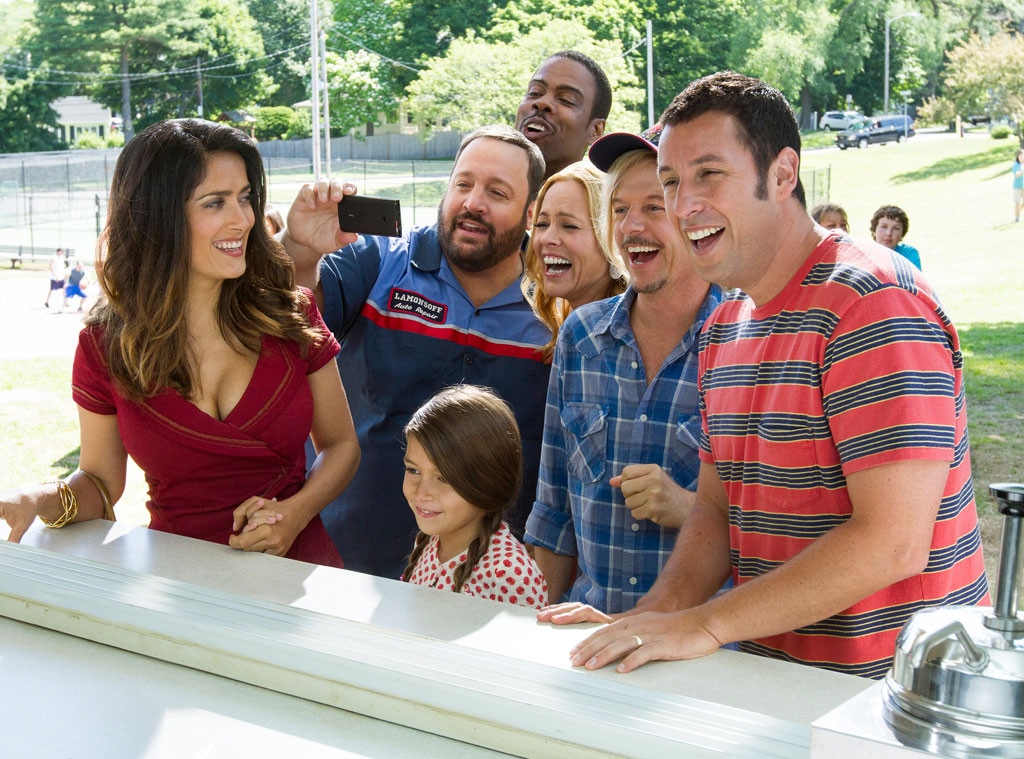 Columbia Pictures
They say it's an honor just to be nominated, but it's hard to imagine that anyone wants to be recognized by the 34th Annual Razzie Awards. The full list of Golden Raspberry Awards nominees was announced on Wednesday, Jan. 15. The comedy Grown Ups 2, directed by Dennis Dugan and starring Adam Sandler, Kevin James, Chris Rock and David Spade, led the lineup with eight nominations.
Will Smith and Jaden Smith's After Earth, Tyler Perry's A Madea Christmas and the star-studded Movie 43 trailed behind six nominations each. The list was announced one day before the Oscar nominations, and the Razzies will similarly be handed out one night before the Academy Awards on March 2.
The general public selected the Worst Screen Combo "honorees" via Rotten Tomatoes.
Here's the complete list of nominees:
WORST PICTURE
After Earth
Grown Ups 2
The Lone Ranger
A Madea Christmas
Movie 43
WORST ACTOR
Johnny Depp, The Lone Ranger
Ashton Kutcher, Jobs
Adam Sandler, Grown Ups 2
Jaden Smith, After Earth
Sylvester Stallone, Bullet to the Head / Escape Plan / Grudge Match
WORST ACTRESS
Halle Berry, The Call / Movie 43
Selena Gomez, Getaway
Lindsay Lohan, The Canyons
Tyler Perry (as Madea), A Madea Christmas
Naomi Watts, Diana / Movie 43
WORST SUPPORTING ACTOR
Chris Brown, Battle of the Year
Larry the Cable Guy, A Madea Christmas
Taylor Lautner, Grown Ups 2
Will Smith, After Earth
Nick Swardson, Grown Ups 2 / A Haunted House
WORST SUPPORTING ACTRESS
Salma Hayek, Grown Ups 2
Katherine Heigl, The Big Wedding
Kim Kardashian, Temptation: Confessions of a Marriage Counselor
Lady Gaga, Machete Kills
Lindsay Lohan, InAPPropriate Comedy / Scary Movie 5
WORST SCREEN COMBO
Entire Cast, Grown Ups 2
Entire Cast, Movie 43
Lindsay Lohan and Charlie Sheen, Scary Movie 5
Tyler Perry and Either Larry the Cable Guy or That Worn Out Wig and Dress, A Madea Christmas
Jaden Smith and Will Smith on Planet Nepotism, After Earth
WORST PREQUEL, REMAKE, RIP-OFF OR SEQUEL
Grown Ups 2
The Hangover Part III
The Lone Ranger
Scary Movie 5
The Smurfs 2
WORST DIRECTOR
Dennis Dugan, Grown Ups 2
Tyler Perry, A Madea Christmas / Temptation: Confessions of a Marriage Counselor
M. Night Shyamalan, After Earth
Elizabeth Banks, Steven Brill, Steve Carr, Rusty Cundieff, James Duffy, Griffin Dunne, Peter Farrelly, Patrik Forsberg, Will Graham, James Gunn, Bob Odenkirk, Brett Ratner, Jonathan van Tulleken, Movie 43
Gore Verbinski, The Lone Ranger
WORST SCREENPLAY
After Earth, M. Night Shyamalan,Gary Whitta and Will Smith
Grown Ups 2, Adam Sandler, Tim Herlihy and Fred Wolf
The Lone Ranger, Justin Haythe, Ted Elliott and Terry Rossio
A Madea Christmas, Tyler Perry
Movie 43, Ricky Blitt, Steve Baker, Will Carlough, Tobias Carlson, Jacob Fleisher, Patrik Forsberg, Will Graham, James Gunn, Claes Kjellstrom, Jack Kukoda, Bob Odenkirk, Bill O'Malley, Matthew Alec Portenoy, Greg Pritikin, Rocky Russo, Olle Sarri, Elizabeth Shapiro, Jeremy Sosenko, Jonathan van Tulleken and Jonas Wittenmark