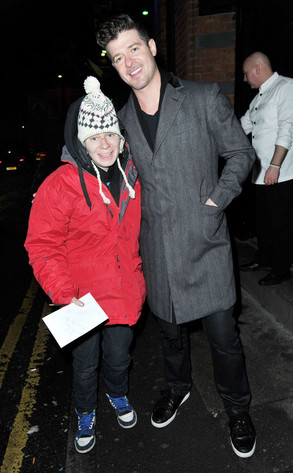 XPOSUREPHOTOS.COM
Robin Thicke's generous spirit was on full display in the streets of Manchester, U.K. Monday evening. The Grammy-nominated artist gave a homeless woman £20, almost $33, on his way to the Manchester Arena where he was supporting Maroon 5's European tour.
The bundled-up fan was all smiles when he even took time to pose for a photo.
This isn't the entertainer's first act of kindness. Last year he joined other celebrities in teaming up with Tickets for Charity, a philanthropic site that allocates funds from concert ticket sales to worthy organziations. Thicke chose St. Jude Children's Research Hospital and the Natural Resources Defense Council as the causes closest to his heart.