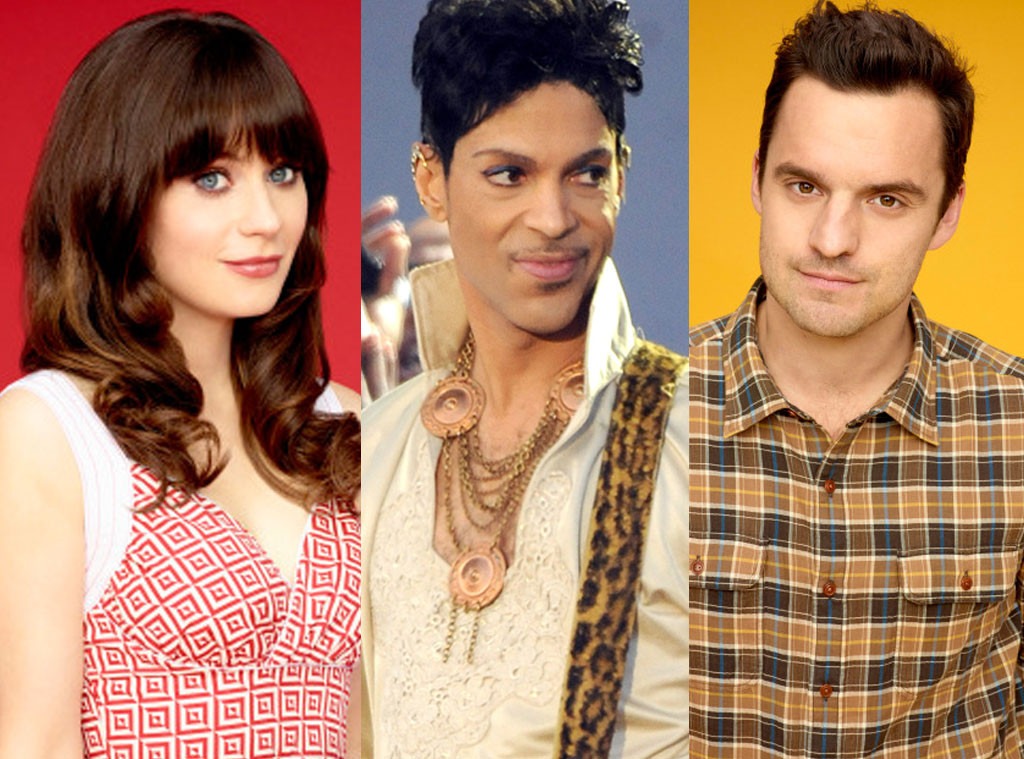 Getty Images, Alexei Hay/FOX
"We got Prince. It's pretty good."
Understatement of the century, much?! New Girl scored one of the biggest guest stars of the TV season, with music icon Prince set to guest star in the big Super Bowl episode. Or should we say Prince actually scored the biggest guesting gigs as we exclusively reported that he reached out to star Zooey Deschanel about being on the Fox hit sitcom. Why? Because he's a total Nick (Jake Johnson) and Jess shipper!
So how does it feel to know Prince ships your TV couple? On the red carpet at Fox's TCA All Stars party on Monday night, Jake Johnson told us, "Here's the reality, which is really neat: Prince came on and he's really nice and he told us he was a fan of the show. And his whole group, like he travels with the whole band, they all watch the show. It was really neat because we're all such big fans of him."
Basically, it was a big ol' love-fest on the New Girl set when Prince was around.
Watch:
Prince Will Guest Star on "New Girl"
During our chat with executive producer Dave Finkel, he revealed that Prince asked to come on the show and to factor into Nick and Jess' storyline. "He said, 'I want to be involved in the show in a real way and I want to help Nick and Jess with their relationship,'" Finkel spilled.
What does relationship advice from Prince sound like?
"You gotta watch the episode. I can't give that away," Johnson said. "But what I can say is that it's a really fun one."
Executive producer Brett Baer was able to spill a bit more about Prince's love lessons, telling us, "He's right in the middle of trying to help [Nick and Jess] work through some stuff and it's amazing. His thing was all about getting to Jess and trying to bring out this inner part of her that hadn't been brought to the forefront. The word 'hip tips' was sort of the thing. He put it, I think I can give her some hip tips!"
And Johnson was quick to admit that Prince's presence on set definitely got to him.
"It was the first time in a long time that I got genuinely nervous," he said. "As an actor you're used to working with other actors, but seeing Prince there threw me a little bit."
Of course, Johnson had nothing to be worried about, as Baer gushed over how supportive Prince was during his time filming with Johnson and Deschanel, saying, "His whole thing was making sure that he was supporting Zooey and supporting Jake. It was incredible."
New Girl airs tonight at 9 p.m. on Fox.
—Reporting by Leanne Aguilera