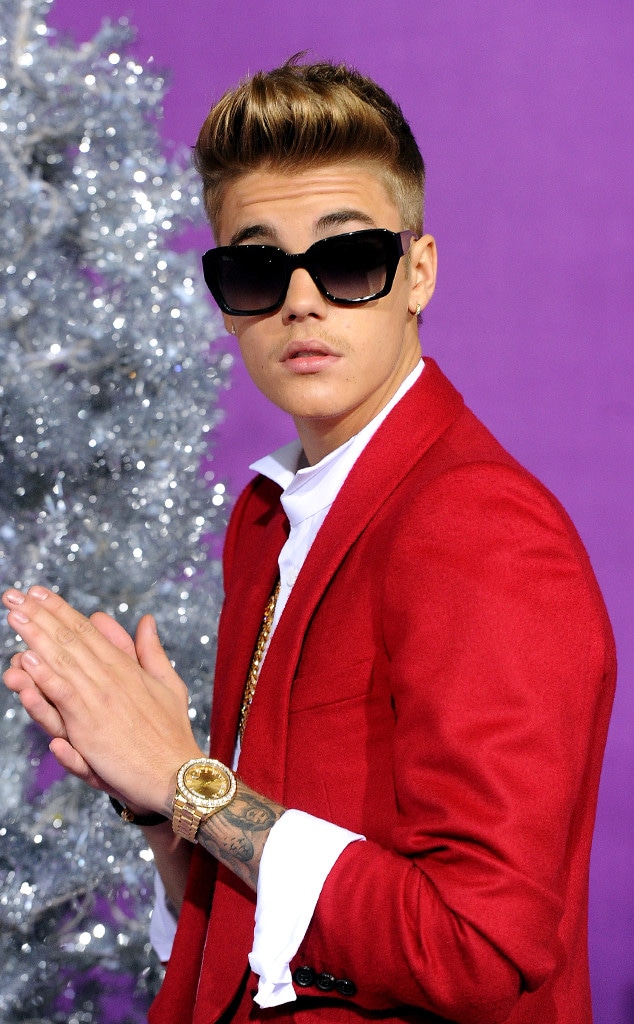 Kevin Winter/Getty Images
Breaking into the Democratic National Campaign office he didn't. But we're wondering if Justin Bieber could end up getting booted back to his native Canada if the investigation into what is rapidly becoming known as "Egg-Gate" results in his arrest.
The 19-year-old pop star has not been arrested at this time following a search of his Calabasas, Calif., home in connection with an egg-throwing incident in his posh neighborhood—but if he is and subsequently charged with a felony?
Immigration attorney Michael Wildes, whose firm's clientele over the years has included John Lennon and Craig David, tells E! News that Bieber would not be deported "for an egg-throwing incident."
Bieber is currently residing in the United States on an O-1 visa, issued by the government to people with "extraordinary ability in the sciences, arts, education, business or athletics," according to U.S. visa policy.
"But," Wildes added, "if an assault or battery charge was leveled, that could be more serious. Visa fraud, a gun charge, burglary are usually things that [are] tantamount to that type of scrutiny.
"The truth is, crimes are crimes and the government has a strong policy of pursuing individuals who are here on temporary visas if the case warrants it. However, I do not believe that this case warrants it."
Hear that? It's a collective sigh of Belieber relief.
According to Wildes, ultimately it would be up to the government to decide if the "Baby" singer's case (if there ends up being a case) would be worth pursuing among the piles of other immigration cases it's currently sifting through.
"Clearly, any crimes committed on U.S. soil for a person on a temporary visa is held under high scrutiny," he told us. "Any non-immigrant in the United States that is charged with a crime, even if it's not a felony, but a misdemeanor, has to be sensitive to the fact that if it is a crime involving moral turpitude, if it is a crime that shocks the conscience of a state, local or federal prosecutor—that would come under review as well."
As of now, the only arrest that has occurred in connection with the raid on Bieber's house has been that of his pal rapper Lil Za (real name Xavier Smith) for alleged cocaine possession.
Asked if Bieber's past brushes with the long arm of the law—none of which have resulted in prosecution—would have an affect on any hypothetical tangle with Immigration, Wildes indicated that they certainly wouldn't help.
"If you develop a history and a legacy where not only eyebrows are raised, but files are opened up, it could very well lead to something more serious than what we see," the attorney said. 
And if he were Bieber's lawyer, he would be instructing the kid to clean up his act, pronto.
"Scramble the eggs, don't throw them," Wildes, whose daughter also happens to be a major Belieber, said. "We are a nation of laws that respect talent, but I would caution that if I were his lawyer I would be speaking to him pointedly—and my daughter, Mrs. Bieber, would have to intercede."