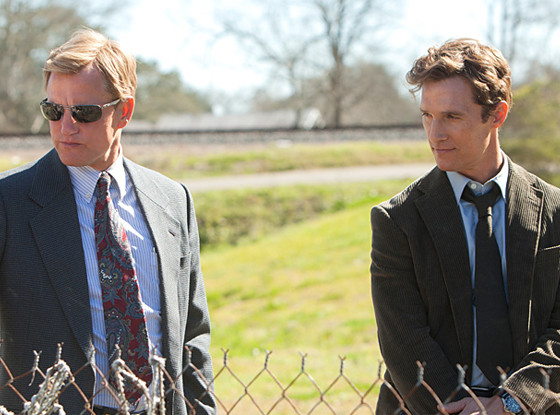 HBO
The True Detective series premiere ratings are in and they're more than "alright, alright, alright." More than 2 million viewers watched Matthew McConaughey's new drama as the star captured the Golden Globe on Sunday, Jan. 12.
The debut of McConaughey and Woody Harrelson's new HBO drama brought in 2.3 million viewers at 9 p.m., making it the cable channel's biggest drama premiere since Boardwalk Empire hit the scene in 2010. True Detective follows two Louisiana State Police homicide detectives' hunt for a serial killer in Louisiana across 17 years. The first season is eight episodes.
Meanwhile, McConaughey took home the Golden Globe for Dallas Buyer's Club. The NBC telecast of the 2014 Golden Globes had 20.9 million viewers and a 6.5 rating in adults 18-49. That's a lot of people watching McConaughey.
Girls returned for a third season at 10 p.m. to a series high of 1.1 million viewers.
McConaughey and Harrelson are generally considered movie stars, but the two opened up about heading to TV at the 2014 TCAs.
"It's a different time in television. It's not there's not that feeling of if you're having a successful film career and somebody brings up something on television we didn't know, at the time when I got it, where it was going to be. All I knew is I read the first two episodes, and I was in. And I was just, at the time, looking for quality," McConaughey said.