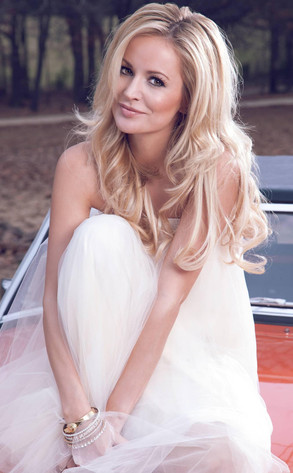 Emily Maynard
Emily Maynard revealed she's hoping to marry Tyler Johnson "soon" during a Tuesday, Jan. 14, appearance on ABC's Good Morning America. The former Bachelorette went on to explain how she finally fell for her future husband after years of friendship while talking to co-anchor Lara Spencer.
"We met each other at church and I think that's why our relationship is so good now, because we started out as friends," explained Maynard, who has been engaged four times in the past 10 years.
Maynard's first fiancé, NASCAR Driver Ricky Hendrick, tragically died in a plane crash in October 2004. The following week, she learned she was pregnant with their daughter, whom she named Ricki in his memory. Maynard got engaged to Texas bar owner Brad Womack during Season 15 of The Bachelor in the fall of 2010; they called it quits in June 2011, less than six months after the show's finale aired. Maynard accepted a proposal from water entrepreneur Jef Holm while taping the Season 8 finale of The Bachelorette in the spring of 2012. They went their separate ways in October of that same year.