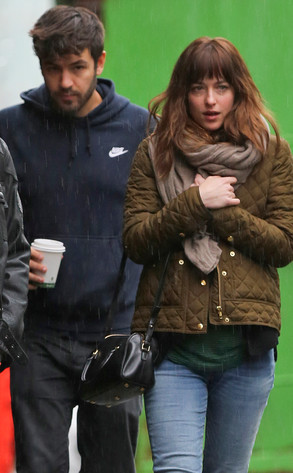 R Chiang/Splash News
It's always important to eat lunch if you're working. Especially if you're Dakota Johnson and your long days on the job require filming sexy scenes with Jamie Dornan.
The 24-year-old starlet took a break on the Fifty Shades of Grey Vancouver set and grabbed a bite to eat with her boyfriend Jordan Masterson on Sunday, Jan. 12.
The two stopped by Café Medina for lunch and stayed just over an hour, E! News learned. Masterson seemed to be in great spirits, as he held the door open for Dakota on their way out. Earlier in the morning, they were spotted taking the dog for a walk.
Johnson was all bundled up in the cold temperatures, wearing an olive-colored jacket, an oversized scarf, green sneakers and pale skinny jeans. The 27-year-old actor, on hand to support his ladylove, sported a navy blue sweatshirt, jeans and rubber boots.
This isn't the first time the lovebirds have been spotted in Vancouver; the pair hit the gym together in December and Dakota was all smiles afterwards as she was snapped on the way out.