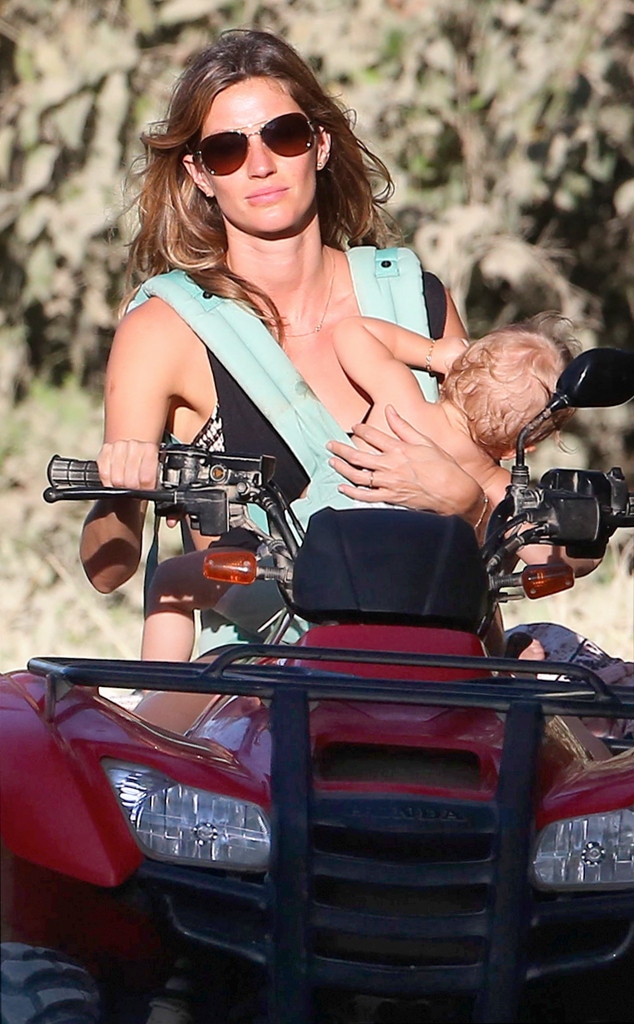 RS/X17online.com
Worried about helmet hair?
Gisele Bündchen took a four wheeler ATV out for a spin in Costa Rica, on Monday, Jan. 13, and opted to ride without protective head gear. The Brazilian beauty, 33, held her daughter Vivian, 13 months, in her left arm while steering the all-terrain vehicle with her right arm. Bündchen strapped her baby to her chest in a carrier; it doesn't appear that she used any additional safety gear in case of an accident.
It's unknown how fast the two were going when they were photographed heading to the beach.
This isn't the first time Bündchen has driven a quad bike with an infant in tow: in March 2013, she and her NFL player husband, Tom Brady, rode an ATV with their little girl in the same Central American country.
Under Costa Rican law, drivers must be at least 16 years old with a valid license; underage riders are not permitted on ATVs. In the United States, where Bündchen and her family of five currently reside, there are no national laws regulating the use of four wheelers; it is up to the state. However, only a handful of states currently prohibit children under the age of 16 from using adult models.
The All-Terrain Vehicle Safety Institute, a not-for-profit division of the Specialty Vehicle Institute of America, advises all riders to wear a DOT-compliant helmet, goggles, long sleeves, long pants, over-the-ankle boots and gloves when riding. One of its guidelines also states: "Never carry a passenger on a single-rider ATV, and no more than one passenger on an ATV specifically designed for two people."
Where was Brady during Bündchen's excursion? The quarterback led the New England Patriots to a 43-22 victory over the Indianapolis Colts on Saturday, Jan. 11, and now he's gearing up to play Denver Broncos in the AFC Championship Game on Sunday, Jan. 19. Though the odds are against his team, the 36-year-old athlete is confident that they can defeat their opponent.
"We've got a bunch of underdogs on our team and we'll be an underdog again, and we'll see how that shapes up at the end of the week," he said in a Jan. 13 radio interview. "But I know we're as tough, as physical as we've ever been, and that's how we're going to need to go out and play this game."
Following her outing with Vivian, Bündchen got back to work on Tuesday, Jan. 14. She modeled a slew of bikinis for an upcoming H&M campaign.