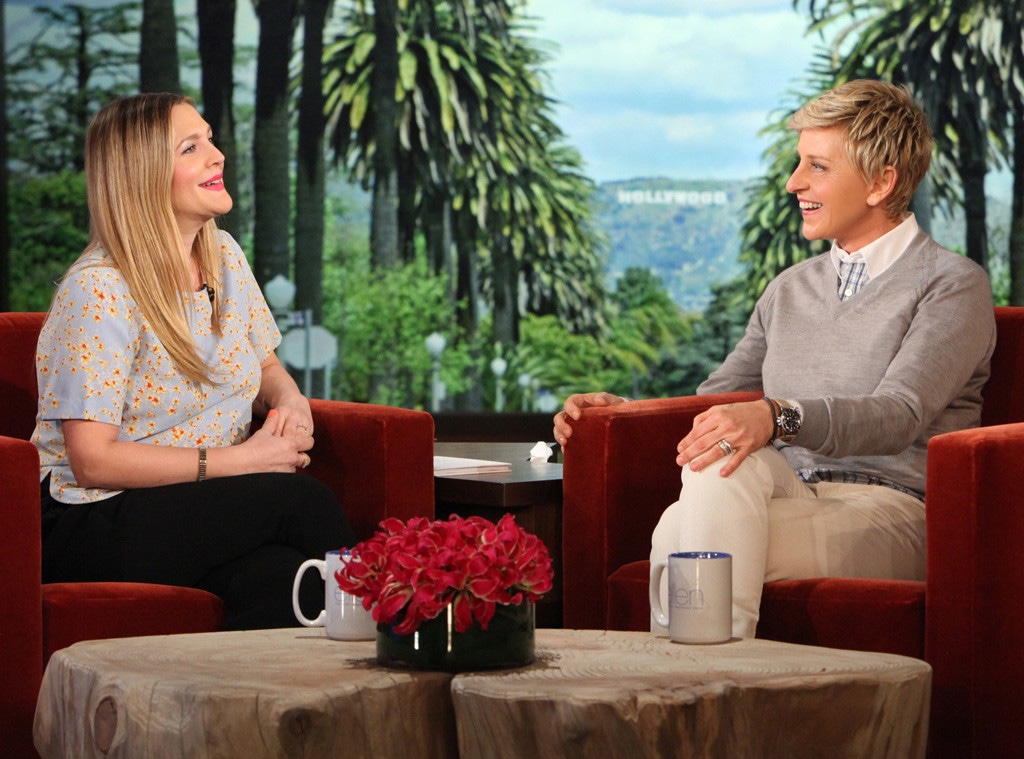 Michael Rozman/ Warner Bros.
Why is Ellen DeGeneres talking about Drew Barrymore's weight?!
Well, it's not exactly what it seems but the expectant star confronted the TV host for calling her fat at the People's Choice Awards.
During an appearance on The Ellen DeGeneres Show, Barrymore had producers play a tape from backstage showing Ellen calling the actress fat. And sure enough, the video was proof positive that Drew was right.
"I hadn't seen you in a while and instead of saying, 'Oh, you're pregnant,' I just thought it would be funny to say, 'God, you're fat," Ellen said in defense of her joke.
"And the truth is your joke was super funny. The entire room was laughing," Drew explained.
"I'm so glad you can see us laughing though because I totally came home [that] night and my husband goes like, how did it go? And I'm like, 'I told this joke but I don't know if it translated because we were laughing our butts off backstage…'"
It turns out that Drew tried to make a joke about Ellen's comment while she was onstage presenting an award that night—and as she guessed, it didn't quite translate to viewers.
"I went out and thought I would try it myself and it just dudded, but you know, that's okay because you just pick up and move on," Drew added.
And move on they did. Ellen followed up by asking her how this pregnancy is different than her first one with baby Olive.
"Oh god, I mean, I just eat everything I want, which isn't healthy. I'm bigger this time than my first time. My doctor the other day was like, "Yeah, so I think maybe pull back a little bit,'" she revealed.
"I thought I was doing great. I still fit into those jeans. I mean, they hurt when I wear them but I'm still in them so yeah. But you know, listen, it takes nine months to make it, it takes nine months to unmake it. I don't ever pose like that I'm so fabulous and I lose it like that. I just want to enjoy the pasta right now…I'm in second trimester bliss!"