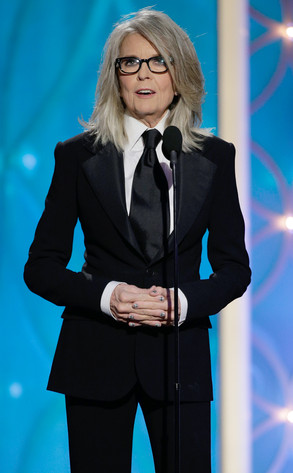 Paul Drinkwater/NBC
Woody Allen may not be one for these award shows, but his BFF Diane Keaton, who starred in his 1977 film Annie Hall, sure had a lot to say in his place.
The actress, dressed in true Woody fashion with a suit and black-rimmed glasses, accepted Allen's Cecil B. DeMille's honor in Allen's place at the 2014 Golden Globes tonight, and offered a speech that was full of admiration, curse words and even a little song!
"I think it's safe to say that Woody Allen is an anomaly. He's made 74 movies in 48 years. He's directed them, he's starred in them, he's produced them and, of course, he's written them. He's written all of them, every one. The feature, for me anyway, that sets Woody's writing apart are the voices of four decades of unforgettable female characters starting with La-Dee-Da Annie Hall all the way through to Cate Blanchett's beautiful performance in Blue Jasmine.