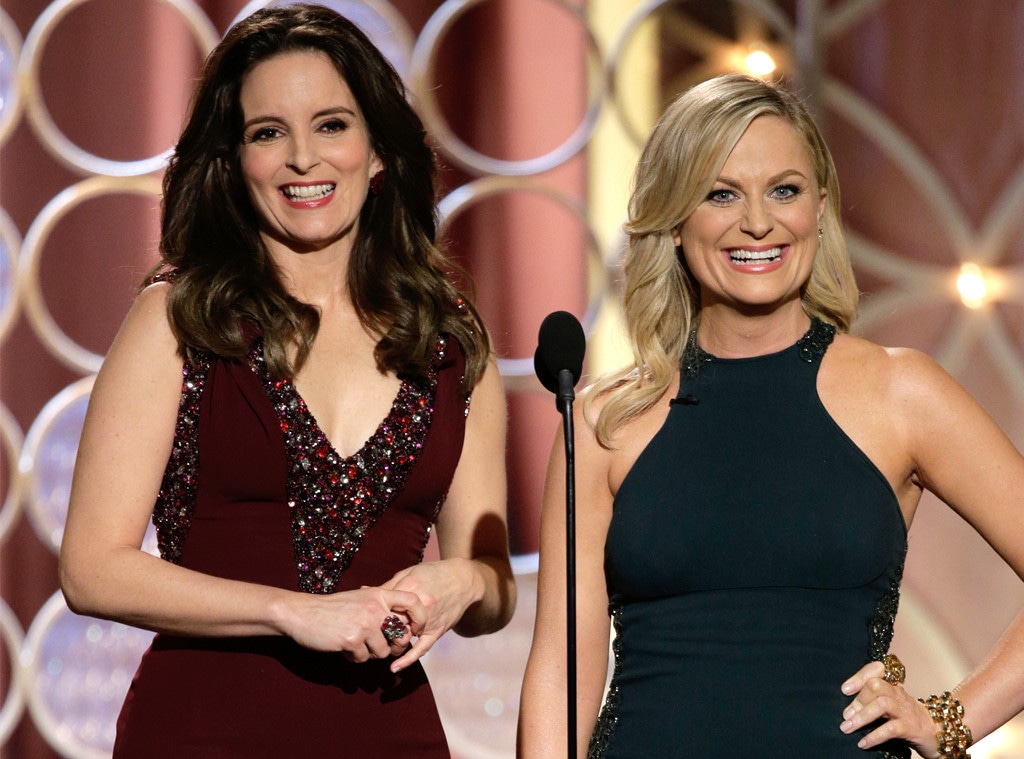 Paul Drinkwater/NBC
Tina Fey and Amy Poehler are the greatest. No, really.
The dynamic duo rocked last year's awards show, and tonight, they graced viewers and stars with their presence once again as the hosts of the 2014 Golden Globes. Just as expected, the two funnygals brought in the laughs and entertainment throughout the event, making us that much more excited about seeing them on stage again for 2015.
But before we countdown to next year's Golden Globes, let's reminisce on Tina Fey and Amy Poehler's awesome hosting moments from this evening.
• When Poehler "accidentally" pronounced Tom Hanks' name "Tam Honks"
• When they ranked every big celeb's status and—wait for it—Jean-Claude Van Damme came out on top
• When they told Matt Damon, "You're basically a garbage person" compared to all the stars in the room
• When they mentioned that Poehler was nominated for an award, and the camera went to "Poehler" aka Jennifer Lawrence
• When they noted that Julia Louis-Dreyfus was sitting with the film side, and then she becomes way too cool to associate with any TV people
• When they delivered an epic George Clooney joke about his role in Gravity: "Clooney would rather float away and die rather than spend one moment with a woman his own age"
• When they advised ladies to sleep with their limo drivers before the driver becomes famous (like Barkhad Abdi, from Captain Phillips)
• When Amy attempted to sound like Scarlett Johansson in Her
• When they mentioned that Matthew McConaughey lost 45 pounds for Dallas Buyers Club, "or what actress call, being in a movie"
• When they started calling out actors for wearing prosthetic penises (Tom Hanks was definitely caught off-guard with this one)
• When they gave SnapChat a shout-out
• Every time they did their signature high-five to each other
• When Tina introduced her "son," Randy, as Mr. Golden Globe, and it turned out to be Poehler dressed as a young boy, who couldn't wait to get offstage and really wanted to figure out who his father is
• When they came out tipsy with glasses of wine
• When Amy got a massage from Bono to relieve her stress about winning her nomination
• When Amy practically made out with Bono when she won a Golden Globe (for the first time!)
• When Tina Fey resurrected Taylor Swift's remark from last year's show when she congratulated Poehler and told her, "I love you and there's a special place in hell for you"
• When Tina Fey gave her Michael Bay impression
• When they delivered this amazing joke: "Like a supermodel's vagina, let's all give a warm welcome to Leonardo DiCaprio"
If you're starting to wonder if we just named practically every single moment Tina Fey and Amy Poehler were on stage, you're right. Because every time they're on, they're awesome.