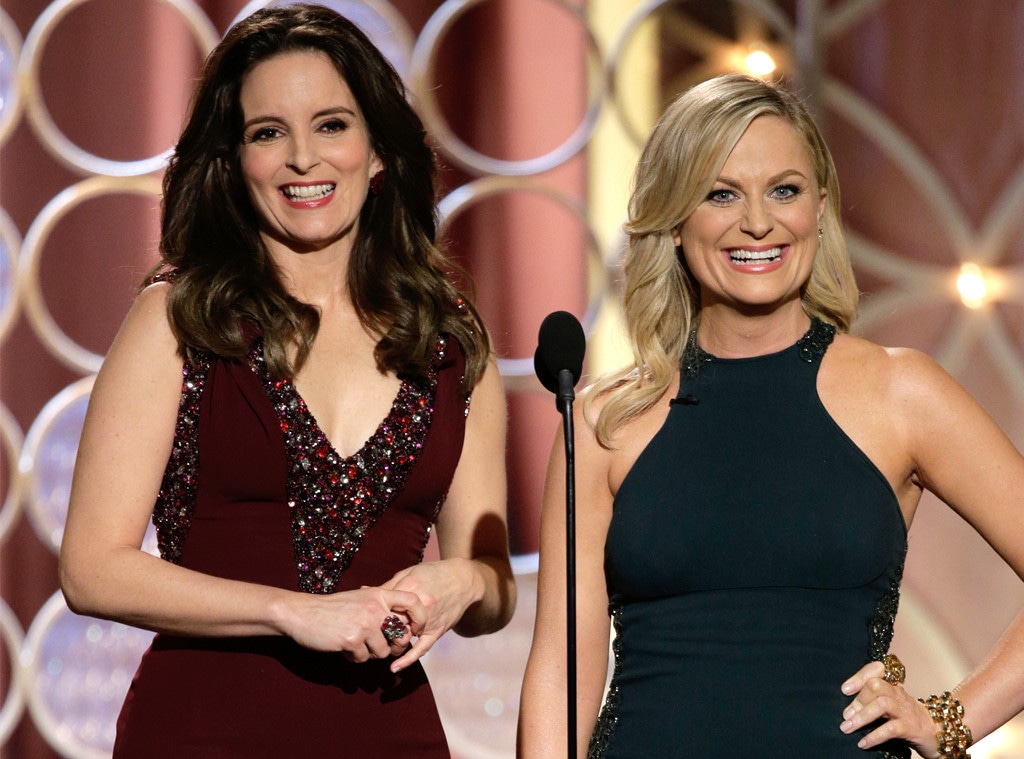 Paul Drinkwater/NBC
Tina Fey and Amy Poehler hosted tonight's Golden Globes and their opening monologue was the best Golden Globes opening monologue ever! Or at least since last year, when Tina Fey and Amy Poehler hosted the show. 
No one was safe from their jokes (except for Taylor Swift, apparently, though she got hers later on in the show). Here is every joke from their monologue, ranked: 
23. Tina: "The beautiful Kerry Washington is here. She's expecting her first child."
Amy: "Oh my god, is it President Fitz's?"
Tina: "Probably! I thought Amanda was carrying his baby!"
Both: "Scandal!"
22. Tina: "The Wolf of Wall Street shocked viewers by using the F-word 506 times in three hours. Which is the new record. Unless you count my dad trying to hang some curtains rods in our living room."
21. Tina: "One of my favorite films this year is the movie Her. Which takes place in the not-so-distant future, which is perfect because so does Joaquin Phoenix."
20. Amy: "Now, a number of big movies used prosthetic genitals this year. Blue Is the Warmest Color, The Wolf of Wall Street, Saving Mr. Banks. Yes, a lot of people don't know Tom Hanks was wearing one the entire time. He's wearing one right now actually, he's really enjoying it. He's so happy about it!"
19. Tina: "Bradley Cooper is here, star of American Hustle! Interesting trivia: The original title of that movie was The Explosion at the Wig Factory."
18. Amy: "Woody Allen is the recipient of this year's Cecil B. DeMille Award, just a few years after Martin Scorsese won it. I assume the award is for tiniest man who wears glasses."
17. Amy: "We got Bradley Cooper, Julia Roberts, Emma Roberts, Leonardo DiCaprio, Meryl Streep."
Tina: "Whoa, what about Redford?! Are you kidding me? It goes, Amy Adams, Sandra Bullock, Tom Hanks, Redford, June Squibb and then like, Mr. Bean for international stuff."
Amy: "If we're going to play my European rules, it's Everyone in This Room and then Jean Claude van Damme.'
16. Amy: "Martin Scorsese is here. Marty, I forgot to tell you that Bobby says hi. And Bobby also, the other Bobby. Bobby and Bobby say hi. And Danny. Danny and Bobby and Bobby say hi. Danny wants me to say hi to you, Marty, and Bobby and Bobby as well."
15. Amy: "Many of our SNL friends did great work this year. Will Forte, Andy Samberg. You might know Andy from his hit song, 'I'm on a Boat.' Which this year was adapted into the Tom Hanks film Captain Phillips."
14. Amy: "One of the most nominated films this year is 12 Years a Slave. I loved 12 Years a Slave and I can honestly say that after seeing that film, I will never look at slavery the same way again."
Tina: "Wait, how were you—"
Amy: "And what a year for television!"
13. Amy: "A lot of nominated shows this year are actually on Netflix. House of Cards. Orange Is the New Black. Enjoy it while it lasts, Netflix. Because you're not going to be feeling so smug in a couple of years when SnapChat is up here accepting Best Drama."
12. Amy: "Masters of Sex is the degree I got from Boston College."
Tied with: Tina: "The Blacklist is who is invited to my room tonight. I'm talking to you Somali pirates. I am de captain nowh."
11. Tina: "Welcome to the 71st Annual Tina Fey and Amy Poehler's Lee Daniel's The Butler Golden Globe Awards!"
10. Amy: "Before earning a Golden Globe nomination for his first ever acting role in Captain Phillips, Barkhad Abdi was working as a limousine driver in Minnesota. There's such a beautiful life lesson here, everyone: Sleep with your limo driver tonight. Before he gets famous."
9. Amy: "Matt Damon is here, for Behind the Candelabra. Matt, on any other night, in any other room, you would be a big deal. But tonight, and don't take this the wrong way, you're basically a garbage person."
(Bonus points for when he called back to the joke later on.)
8. Tina: "We are very happy to be back. We are hosting the Golden Globes for our second time. Because this is Hollywood, and if something kind of works, they'll just keep doing it until everybody hates it!"
7. Amy: "Congratulations to all the wonderful actors nominated tonight, from the amazing Chiwetel Ejiofor to the stunning Lupita Nyong'o to American treasure Tam Honks. Dammit, I knew I was going to screw that up."
6. Tina: "Matthew McConaughey did amazing work this year. For his role in Dallas Buyers Club, he lost 45 pounds. Or what actresses call being in a movie."
5. Amy: "The Wolf of Wall Street is another nominee tonight. I really loved the film, but some of it was too graphic. I mean, if I wanted to see Jonah Hill masturbate at a pool party, I'd go to one of Jonah Hill's pool parties."
Tied with: Tina: "Jonah Hill actually used a prosthetic penis in The Wolf of Wallstreet. So you have that to look forward to next time you eat at Planet Hollywood." 
4. Tina: "Meryl Streep is so brilliant in August: Osage County, proving that there are still great parts in Hollywood for Meryl Streeps over 60."
3. Tina: "Amy Poehler is nominated for her work on Parks and Recreation."
Amy: "I believe Amy is here tonight. Can we get a shot of her?"
Tina: "She looks fantastic!"
Amy: "She looks amazing! Wow, radiant! It is hard to believe she's a 42-year-old mother of two!"
2. Tina: "Our friend Julia Louis-Dreyfus has two nominations tonight! One for Veep and her first film nomination, for Enough Said."
Amy: "Interestingly, Julia has chosen to sit in the film section tonight."
Both: "Hi, Julia! Hi Julia! You know us from TV."
Amy: "Gosh, she has really changed."
Tina: "She's gross."
1. Tina: "Gravity is nominated for Best Film. It's the story of how George Clooney would rather float away into space and die then to spend one more minute with a woman his own age."
Yeah, our reaction exactly, Sandy Bullock.