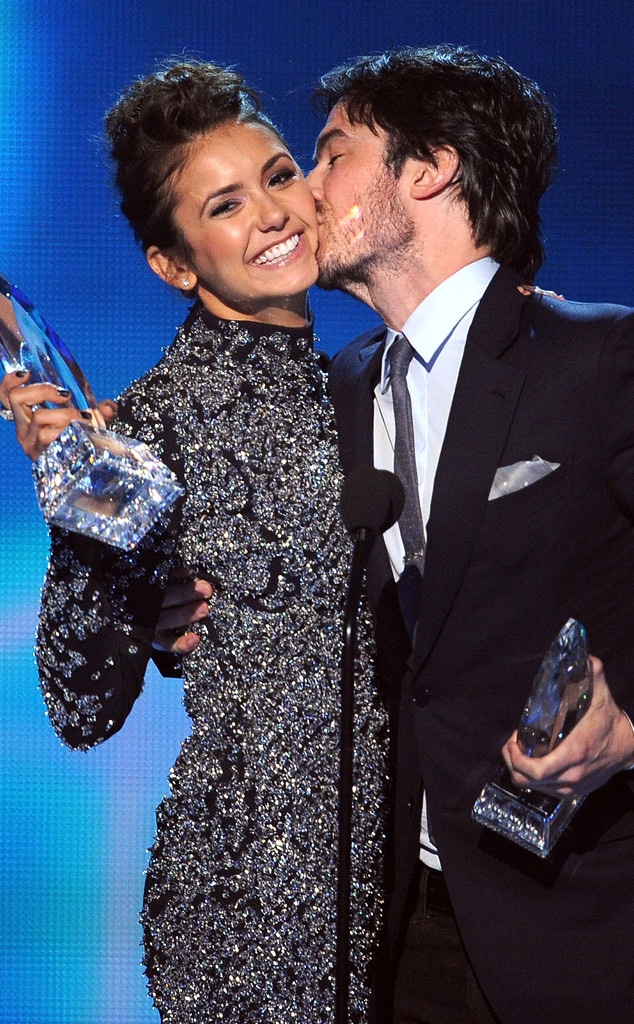 Kevin Winter/Getty Images
Anyone who saw Nina Dobrev at the People's Choice Awards in that stunning dress knows the girl is flawless. And it turns out her handling of what could be an awkward moment is pretty flawless, too.
In her first interview since the PCA moment heard round the world—when Nina and her Vampire Diaries costar Ian Somerhalder joked about their breakup while accepting the "Best Chemistry" award—the 25-year-old actress told E! News why she decided to tackle the elephant in the room head on.
"It's just honest," Nina said of the on-stage moment. "All it was was just honest. You call a spade a spade."
Watch:
Nina Dobrev Discusses PCA Speech
And Nina revealed to us that she was the one who actually hatched the genius plan to address the split.
"I was trying to figure out, like what do you say in that situation?" she explained. "We were like, well, we're cool, we're friends and costars. He's a great person, I'm a great person…I mean, I think I'm pretty awesome.[Laughs.] So it doesn't need to be awkward and I think everyone expected it to be so awkward. We made fun of ourselves and just had fun."
Wait, you mean two celebrities actually managed to stay friends after a breakup? Color us impressed!
The duo's amicable split hasn't had a major impact on the show or Damon and Elena's beloved relationship, as the couple recently won our Best TV Couple of All Time Tournament.
Nina had nothing but kind words to say about Ian, who she dated for three years before splitting in May, telling us, "If you're with someone for that long, there's obviously the qualities in them that you enjoy and that doesn't change just because you're not together anymore. I have an enormous amount of respect and love for him and everyone. That doesn't change, it shouldn't, otherwise why were you with them?"
Nina sat down with E! News to talk about The Vampire Diaries' 100th episode, airing Jan. 23 on the CW, and we'll have a big blowout of scoop and interviews from her and the rest of the cast as the episode approaches—on E! Online and E! News.
In the meantime, Nina (who just turned 25 yesterday!) teased this for fans wondering where Damon and Elena are heading next since their breakup on the show: Something so shocking and juicy goes down in the next episode that "complicates things a bit and leaves everyone sort of confused," Nina spilled. "There's going to be a huge shift starting next episode that really changes things for everyone." 
The Vampire Diaries returns Thursday, Jan. 23 at 8 p.m. on the CW with its landmark 100th episode.