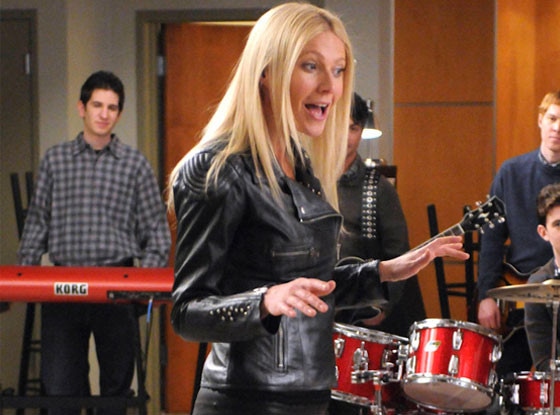 Courtesy of FOX
The 100th episode of Glee just got a little GOOPier. Gwyneth Paltrow will appear in the two-part episode, E! News has confirmed. Oh, and it gets better: She'll be singing!
Paltrow has appeared as substitute teacher Holly Holiday in a three Glee episodes, the last one airing in 2011. The two-part 100th episode will air on Tuesday, March 18 and 25 on Fox. The Hollywood Reporter was the first to report on Paltrow's involvement in the 100th episode.
Following the 100th episode, Glee will shoot several episodes that take place solely in New York.
Paltrow won an Emmy for her guest work on Glee in 2011.
The Oscar and Emmy winner joins several other returning Glee faces for the celebration. Kristin Chenoweth will return as April Rhodes and former series regulars Amber Riley, Mark Saling, Dianna Agron, Heather Morris and Harry Shum Jr.
E! News also has confirmed that at least one guest star will appear who has not yet previously been on the show. Stand by for more details on that.
Glee has already been renewed for a sixth season, but it will likely be the show's last. Series co-creator Ryan Murphy recently revealed how he had envisioned the show ending. Rachel Berry (Lea Michele) was going to achieve her dream of becoming a big Broadway star and then return home to Lima, Ohio where Finn Hudson (Cory Monteith) was a teacher and leader of the glee club.
"Rachel comes back to Ohio, fulfilled and yet not, and walks into Finn's glee club," Murphy said in an Entertainment Weekly piece. "'What are you doing here?' he would ask. 'I'm home,' she would reply. Fade out. The End."